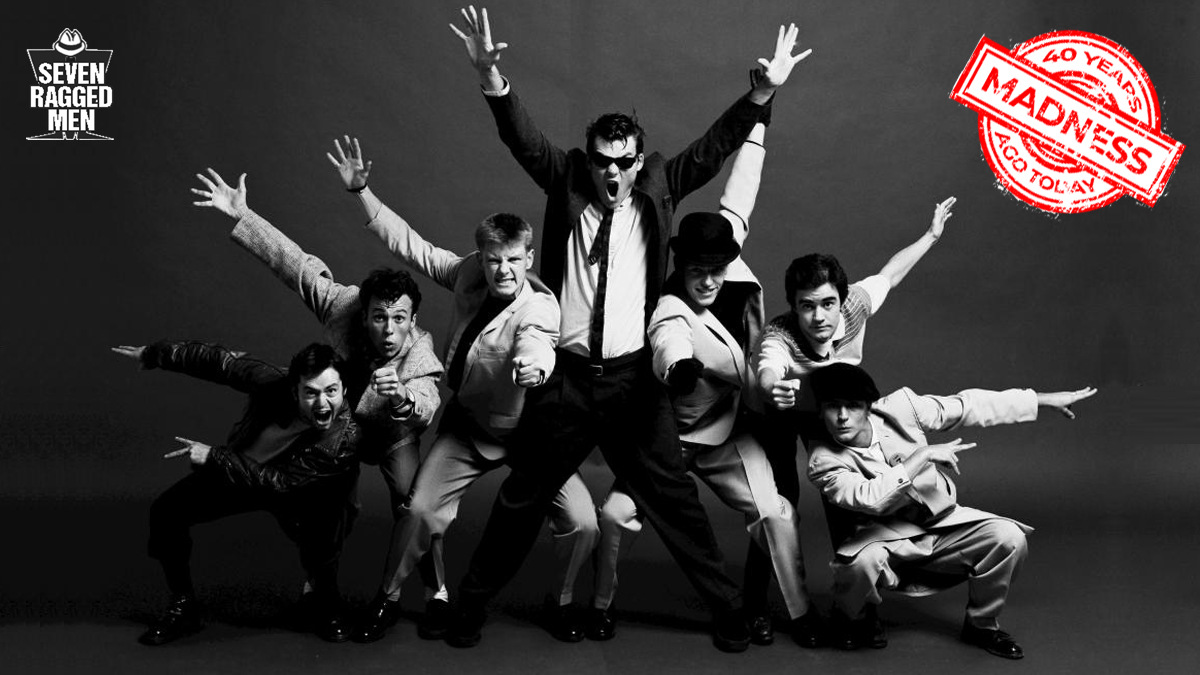 23 Sep

40 years of 7

Released on October 2 1981, the band's third studio album (SEEZ 39) had been recorded at Compass Point Studios in Nassau earlier in the summer.

LEE: After Absolutely our accountants suggested that to save on taxes we should record the next album abroad.

CHRIS: At the time, if you recorded an album overseas you were only taxed on the first 25% of profit or some such wheeze that the Inland Revenue soon caught on to.

MIKE: We'd heard other bands were spending a year in the Bahamas to avoid paying tax but nobody fancied it so we went for six weeks instead.

CHRIS: Also, we thought it would be nice to work somewhere hot.

SUGGS: By that time, we'd recorded everywhere we wanted to in London and didn't want to go somewhere like Manchester or Coventry. It was actually cheaper to record in Nassau than London and we also thought it would be good for the feeling of the album. Plus it was a bit of a holiday – all the girlfriends went.

BEDDERS: After arriving in the Bahamas, we drove straight to Compass Point Studios. The night was very hot and humid and was alive with the sound of hundreds of insects and birds. The air smelt of damp earth and plants. The roads were pitch black and were only lit up by cars coming the other way. It felt like we were in the jungle. Our houses, where we were going to stay for the next month, were built on a small beach, so everyone went to sleep with the sound of the sea in their ears.

LEE: Some of the band stayed in Grace Jones's gaff and some rented Robert Palmer's place.

CHRIS: I shared with Carl and Bedders and also brought along my five-year-old son Matthew.

BEDDERS: The first day, like all the other days, was spent swimming and sunbathing and Carl saying, 'This is nothing like Blackpool.' The sea was so clear, you could make out all sorts of plants and coral on the sea bed and also spot passing manta rays and blow fish. Everyone immediately wrote postcards home saying how Nassau looked exactly like their postcard.

SUGGS: It was a good setting – very easy. No one had any distractions so we could just concentrate on the album. Just swimming, sunbathing and working, that was about all there was to do there.

BEDDERS: It gave everyone the chance to sit back and think about what had gone before. Suggs, I believe, decided to change the way he sang for this album. At the time, it caused a stir but, in hindsight, it was another step forward.

CHRIS: Another difference was that some songs were written in the studio for the first time, like Benny Bullfrog.

LEE: Clive Langer also got me to do overdubs and harmonies which I don't really like because you don't get the real true sound of the saxophone. I like to keep things basic.

CLIVE LANGER: By this time, I was thinking, 'Blimey, I'm a record producer.' I'd always wanted to be a record producer but I didn't think that's what I was; I thought I was in a band helping somebody make a record.

BEDDERS: The first week passed very quickly. Everyone had now got into the easy pace of the island; we'd been without TV and newspapers for the first few days so we felt cut off from the outside world. Lee, Woody and John Wynne had arrived on the second day and Chris had come over from London after getting over a bout of flu. In the studio, Mike, Woody and me had nearly finished the backing tracks but were not as brown as everyone else who had been out in the sun every day.

JOHN WYNNE (sound engineer):During the breaks we used to play Pacman, which had just come out. After two weeks everybody was starting to have painful wrists and elbows like tennis elbow because of repetitive strain injury.

CHRIS: Carl did a lot of cooking, which was very wholesome and nutritious. Robert Palmer would come by and hang out with us and the Tom Tom Club were there recording Wordy Rappinghood for what seemed like forever.

BEDDERS: Yes, I do remember the Tom Tom Club working on their two hits for days on end.

LEE: They were a bit poncey, looking over the tops of their glasses at us, keeping their distance. There might have been an altercation, I can't remember.

CHRIS: It was very boring, unless you had a car, but we had a nice time.

BEDDERS: I remember the constant power cuts, the smell of the heavy, humid night air, and being offered a tumbler full of grass next to the Weetabix in the local supermarket.

LEE: There was also a gambling club nearby which I avoided like the plague but which was popular with the gamblers in the band. Nine times out of ten they'd come back skint without their trousers, penniless.

JOHN WYNNE: I used to have the money and I'd give people per diems – I think everyone got $40 a day. I'd go to the bank every third day as as it wasn't the safest of places to walk around with a thousands dollars in your pocket. One day Mike said to me, 'I need $200 to hire a car.' Luckily enough, some people didn't want their money that day so I gave him a hundred and he'd saved some more and he hired this car. That night he came back really pissed off. Him and his wife Sandra had gone on the beach, taken off their clothes and gone swimming. When they came back – money's gone, camera's gone. High as a judge I said, 'Lucky I didn't advance you another $100 Mike, otherwise you'd have to pay that back too.' Well that went down like a sack of shit…

BEDDERS: The second week brought the Royal Wedding. We had to stay up and watch it at 4am and it made us feel a little bit homesick. Suggs and Lee had brought underwater masks and were turning into Captain Nemos, bringing back coral and starfish from the sea. We were cooking our own food so we made frequent trips to the supermarket and Carl would make us his famous tuna fish salad.

MIKE: I loved it. There was beautiful sunshine, palm trees… everything with the band was pretty exciting back in those days and the candle burned very bright for quite a long period really.

Recording usually starts at 5pm each day, with Mike the driving force behind each session before leaving his bandmates to it at around 2am.

JOHN WYNNE: We used to watch Mike walk up towards his house at the top of the hill. And as soon as his door was shut we'd be off down to the nightclubs until 6am. There was one bar on this steep hill behind the studio, on what used to be an aerodrome. There was a guy there who'd lost his arm in a propeller who said, 'Do you want a game of pool?' And he beat absolutely everybody!

BEDDERS: By the end of the second week me and Woody had finished recording, so it was our turn for the suntan – or sunburn if you stayed out too long. Days drifted into days and keeping track of time was very hard. Everyone looked very tanned and the album rolled on.

SUGGS: The only thing was, it had started feeling very professional. That side of things was becoming more prevalent than with the previous two albums, where it was pure luck we were there at all.

JOHN WYNNE: To a certain extent, they'd had years to get material for their first two albums. Once they got to the third they were getting tired. There weren't enough songs so they had to make songs from nothing and they were falling behind. It was hard work and everyone was getting stressed.

BEDDERS: The last week was spent getting ready to go home, the staple diet of sun and surf was wearing thin and everyone was pining for London.

CARL: By that time, we'd found we didn't enjoy doing it abroad after all.

SUGGS: It was good in some respects. But it depends on what your dreams of a desert island are.

JOHN WYNNE: Communications with the UK were also hard work. It all had to be done by telex. Everyone had to come up with various names for the album and I had to type them out every night while they were recording and send a letter back to Stiff. They spent so much time on it.

BEDDERS: We thought that we'd never get home, what with the American air traffic controllers' strike and Hurricane Dennis, which threatened to flatten the island. But finally the day came when it was time to pack our bags and as usual it was one mad Madness rush. We only just made the plane with suitcases flying everywhere. The long flight gave us time to think about the work completed and work commencing.

CHRIS: I remember Alan Winstanley and I brought the album tapes back through customs. I couldn't help laughing at the sticker: 'These tapes have absolutely no commercial value.'

The album will eventually peak at No7 in the UK charts.

CHRIS: I hate to use a Beatles comparison but this was our Revolver album. Suddenly we were exploring more adventurous rhythms and ideas and a lot of that was down to Mike. No more reaching for the ska button.

MIKE: We were always looking for different sounds and didn't want to keep playing the same kind of music. We didn't want people to think they'd heard it all before, but we also wanted to feel excited about what we were doing otherwise you feel like you're not going anywhere.

SUGGS: We didn't make a conscious effort to be more serious, but 7 is definitely natural, less nutty and more musical.

MIKE: Although it was a different sound, there were certain principles that we still adhered to. People like Michael Jackson would have a couple of singles at the front of an album then the rest would be pure tosh and unlistenable. But we would always try to do good tracks and make sure that all the songs we did we did well.

SUGGS: I was satisfied with the end result but I know some of the others weren't and Clive and Alan became scapegoats since they were in control of the proceedings.

ALAN WINSTANLEY: It's a good example of the period when we got too comfortable. We weren't strict enough and should've said, 'Go back and work on the songs a bit more.' I think some of the guys maybe lounged around by the pool too much in Nassau, so when we got back to London we recorded a lot of it again.

LEE: It's funny, we were asked to make a very sunny, laid back album that was a bit American-ifed and a bit west coast. So they sent us out to Nassau, full of bunny girls, gambling, casinos and champagne and all that, and we came back with a very dark London album, full of grey songs like Grey Day and The Opium Eaters. It just shows you can take London out of the man but you can't take the man out of London.

CHRIS: That's true. The surroundings didn't really affect the album at all – it wasn't like, 'Let's go to India and put some sitars down, man'.

MIKE: It's not like, 'Yeah, Palm trees. Let's get some coconut shells sounds.' That's what people were saying it was going to be like but don't think it was particularly. Maybe if we lived out there for live years an influence would show up, but we were only there for a month or so. I mean why should we say it was recorded in Nassau? It doesn't make any difference. A studio is a studio. You don't suddenly say, 'I don't want to record. I want to spend all my time on the beach.'

SUGGS: We thought we might get a bit of a calypso sort of an album out of it but we didn't at all. In the Bahamas, they all listen to West Coast soul. You don't see a load of merry minstrels wandering down the street with steel drums. It's like a bloody American sort of tourist place.

MIKE: While we were there we did go into the nearby town one night and could hear all the locals singing at the church and that was nice. But everyone spent most of their time sitting around the pool, nipping into the studio now and again. How is that going to affect the music? I mean Mrs Hutchinson had a Caribbean feel to it, but it was actually created in rehearsals in London before we even got to Nassau. With the air conditioning in the studio we could have been playing in North London. It was still just a bunch of hoodlums from Kentish Town playing their instruments.

CHRIS: The album was called 7 because Carl, in his wisdom, had decreed that the number seven was pretty mystical. For the cover, we came up with a pose called The Rising Sun, which was really hard to hold in photo sessions because Mike would fall over. It also features in the video for Shut Up.
---
1. CARDIAC ARREST (Smyth/Foreman)
CHRIS: This was the first song I wrote with Carl. The band worked out the music based on a rough idea I had and then he came up with the lyrics.
CARL: Before the band got a record deal I was working in a petrochemical company in Paddington – CJB in Eastbourne Terrace. Every morning I joined the rush hour tube commotion, and journeyed for an hour from Muswell Hill by bus to Highgate tube, to Paddington Station via a change from the Northern Line to the Circle Line – y'know, everyone avoiding eye contact etc. One morning a guy in a suit like mine, I guess in his late 40s or early 50s, was dragged off the train with what was obviously a heart attack. He was lying on the platform while two staff members of the underground station endeavoured to give him mouth-to-mouth. I stayed watching, saying some prayers 'til it was apparent he was dead. Most people were just walking past him and avoiding looking at the situation. At this time in my life – I think I was 16 – I had also seen my father have a heart attack. It was only a mild one, but a heart attack nonetheless. It occurred when I was 13 and his job had taken us to Iran. It was pretty frightening for a teenager. So years later, when Chris came up with the music, I knew that I should write a song about a heart attack victim; it seemed the right subject for the feel of the song.
MIKE: We did a heartbeat thing for the intro but then when we released it as a single they didn't want to play it on the radio. The DJ at Radio 1 seemed to take it very personally, which I didn't think was very fair of him. I mean, you're a DJ, you might find it painful but it's not fair to hurt someone's work by not playing it.
CHRIS: The title of the song definitely resulted in less airplay.
WOODY: Maybe if we'd stuck to the original song title, which was 7 Letters, the single would have gone top 10.
CARL: Some people were offended without even knowing what the song was really about. People writing to me saying, 'How dare you write a song like that? My father had a heart attack, you don't know what it feels like' etc. But I did know what it felt like ­– my own father had a heart attack; that's why I wrote it. It's a hard subject to cover but it was born out of concern. The message was to slow down and learn what's important: 'Relax darling, don't get stressed.' Or as the Arabs say, 'Walk through life, don't run.'
---
2. SHUT UP (McPherson/Foreman)
MIKE: The slamming chord at the beginning was Clive Langer's idea. He was a musician himself, of questionable quality, but he came up with some great little bits. It was supposed to sound like the end of A Day In The Life by The Beatles – we all had to hit a weird chord.
CHRIS: I had loads of feedback on it, but because we had so much on our records, things would get lost. In fact, I used a sitar – that was the thing that was feeding back.
MIKE: The song was about being on the wrong side of the law, which of course was part of our growing up – we experienced a lot of that stuff. I was always very proud of the piano solo on it.
---
3. SIGN OF THE TIMES (McPherson/Barson)
Send us a quote if you find one!
---
4. MISSING YOU (McPherson/Barson)
SUGGS: This was about touring, touring and then a bit more touring. What started out as great fun was starting to make me miss loved ones. We realised we were being wrung dry. You think you're doing it for yourself, but all you have are your marbles scattered all over Europe and America. I felt like I'd been going mad for a year and a half. They'd say, 'You've gotta go to Germany! You've gotta go to Sweden! You're No1 in Sweden!' Big bloody deal, you've only got to sell 10 records! So we said, 'We're not going 3,000 miles to promote anything.'
CARL: We found ourselves in Italy and we suddenly thought, 'album-tour-video-album-tour-video – when's it going to stop?' We thought, we've got to work this out, or our brains are going to fry.
SUGGS: We were on the treadmill for three years and we didn't realise it.
CARL: It was the rock 'n' roll mentality: 'Keep the band hungry, keep them busy, don't tell them anything, keep them doing press, put out those wacky cacky clocks with 'maddy boys' on!' You'd drive through Camden Town going 'Alright, this is our manor! Hello my cocker! Alright my son! Hello darling!' – believing all your own press and image. We had to put our collective feet down. We didn't fancy becoming divorced from reality – falling into that 'rock star' trip. It's just not us.
---
5. MRS HUTCHINSON (Barson)
LEE: I was with Mike one day and he was just really depressed. I asked him what was wrong and he spits, 'It's me Mum… she's got cancer.' The hospital had told her they were just running a few tests, they told him she had a week to live. In the end, it turns out they made a complete mistake and all she had was gallstones. Meanwhile Mike had been wandering round for weeks thinking his Mum was going to drop dead any minute.
MIKE: I wrote this as I was pretty pissed off with doctors and the National Health. It's about doctors who always tell you that there is nothing wrong when there is. 'Just take a couple of aspirins' they always say. Some of them are really irresponsible . That happened to my mum. This doctor pulled me and my brother into a room and said, 'Your mum's not going to make it.' Then he went to my mum, 'Ooh, hello Mrs Barson, it's going to be fine,' while he's saying to us she's going to kick it. It was completely wrong. She had something else in the end. Talking about death was a taboo then. I wrote the song quite a bit later, once my mum got the green light. I didn't have a plan to write on that subject, it just came.
---
6. TOMORROW'S DREAM (Thompson/Barson)
CARL: This was about animal testing and cutting monkeys' brains out and all that stuff.
LEE: I'm a big lover of animals, so this was a subject close to my heart. It was inspired by animal experimentation in the name of scientific progress and Ronald Reagan's Star Wars missile defence system, which was a big thing back then. I was very much against all that, even though I didn't go around blowing up laboratories or anything.
MIKE: The lyrics are great. They show that Lee's a deep thinker, even though you might not see that when you meet him. I like that juxtaposition – he doesn't seem like he's really thinking about such matters but his lyrics are really good and show that he is.
LEE: For the lyrics I imagined myself in the position of a monkey being experimented on, and there are bits about laser beams and fighting wars from space in there too. Its about science going up its own arse, an animal rights song about sticking up for your fellow furry friend.
CARL: I always liked the shouting and raging in it as there seemed to be a double meaning in the lyrics… not only animal testing but also being a band member on tour.
LEE: When we performed it live Carl would go absolutely fucking nuts – he had this timbale and he'd smash the shit out of it, break the skin and kick the thing over like he was a drug-deranged ape. It was intense: 'Carl, calm down a bit, you're scaring the punters.' But he'd really get into the part. You'd see the poor kids down the front, leaning back, a big space in front of Carl where the punters should be. He'd get right down on his knees and reach out to them, scaring the crap out of them.
WOODY: It was a really hard song to play. In fact it was a nightmare because Mike had to teach me how to play the beat which, if you listen, is the same as Tomorrow's (Just Another Day). If you're left-handed you've got to start with your right hand, and it's really complicated. Clive Langer said the beat was originally played by the Bay City Rollers' Bye Bye Baby which is a bit of an interesting one. Those off-the-wall beats really did my head in and I'd absolutely dread doing some of them live again now.
---
7. GREY DAY (Barson)
LEE: This dated back to before we were Madness, when we were the North London Invaders. I was in and out of the band at the time, living up in Luton, but I do remember Mike writing the melody to it and then it just disappeared for ages.
MIKE: Lee had this echo machine which had a tape that went round and round like an analogue effect. In those days it wasn't easy to get equipment so when he pulled it out at rehearsal we were all really excited, messing about with it and doing an early version of Grey Day which was brilliant. The only thing was, we didn't tape it so we could never remember how it went afterwards. When we finally got around to recording it we did something else instead but I still think it turned out great.
LEE: It did turn out to be a fucking great song. The drum intro's great and I love a song about wet weather, so I can't fault it. It's also a little bit spooky.
MIKE: When I wrote lyrics in those days I'd just sit down and write and not really know what I was writing about and the words would just come. People have said the song is about nuclear holocaust and I'm like, 'Yeah, that sounds good!' I wish it had been about that. I was just trying to write about something that was like the film Eraserhead. I love that film and its weird atmosphere, so I was just trying to capture that nightmarish feeling.
SUGGS: With songs like Grey Day, we were definitely starting to change musically and lyrically. But it was ironic, cos we'd always had those elements of darkness, it just started becoming more prevalent.
WOODY: We did have a lot more depth than just the y'know, the polished turd as it were – us jumping around. We were more than just a boy band.
CARL: We stuck to our guns. We always tried to tell people that we weren't ska. If no one had ever heard our stuff, we'd probably have been stuck with the ska tag but luckily, we were popular so people did get a chance to listen to our records and they could see for themselves that we had lots of different influences.
LEE: It's a very dark song and it's called Grey Day so of course when we filmed the video, lo and behold the skies opened, the sun came beaming down and it was a glorious day. Filming took ages and Chris was moaning, 'Lee, it's going into midnight and you know what that means – double bubble for the crew.' He's always the closet businessman but he was right – their rates did double after midnight. But it was worth it and I like the end result. The half smiling, half-frowning make-up on Carl, like Two-Face from Batman, pretty much defined us; the nuttiness but also the depression.
---
8. PAC-A-MAC (Thompson/Barson)
MIKE: This one's got a bit of a reggae feel as well as a nice melody. It's also got more lyrics from Lee about sex.
LEE: Like House of Fun it was a song about safe sex, with a rushed lyric on the old contraception trail again: 'I wear my cap with pride / When swaying side-to-side.' It was written on the flight to Nassau.
CHRIS: Lee wrote the lyrics but basically there used to be these disposable raincoats in the UK called pac-a-macs. He was using the term pac-a-mac as a euphemism for condoms, as usual.
---
9. PROMISES PROMISES (Thompson/Barson)
LEE: This one is about the kind of pledges that are made at the start of a marriage and how they often go astray. It was also about the broken promises made by Margaret Thatcher when she came to power. I'm not hugely aware politically, but I was getting the horrors around that time.
---
10. BENNY BULLFROG (Thompson/Foreman)
CHRIS: Lee wrote this one in his apartment in Nassau after seeing a frog outside. I'd written the chords and it was pretty average, then Lee suggested the shuffle beat from Fats Domino's My Girl Josephine and it came to life.
LEE: I had the idea for a Fats Domino sort of tune and hummed it to Chris and he went to work. Later that evening I was on the window ledge, just finishing off the lyrics, and suddenly there was one of those bright green frogs with pillar box red eyes, just hanging there. So that's where I got the title.
CHRIS: At the beginning Lee says, 'Found a fiver!' which happened because Carl left a £5 note on the floor to inspire him. I doubt he ever got it back but it worked – what a happy vocal!
LEE: It's about a chap who doesn't have much luck with women; he's very under-confident, a shy frog. And he wants to meet up with this young lady that he's had a thing for but never had the guts and there are all these obstacles in the way. He's like Jerry Lewis from Nutty Professor, the 'unlucky in love' fella, but maybe he'll make good with this lady. It's another sexual song I suppose – Bedders says there's always something sexual about my songs.
CHRIS: It was very popular in Europe and Stiff were considering making it a single but never did.
---
11. WHEN DAWN ARRIVES (Thompson/Barson)
LEE: This is a sexual one as well. It's the story of a rent boy, selling himself so he can live his life of leisure. He just has to work in the wee small hours, from midnight till the early morning. An easy life – but how much can he take physically and mentally?
MIKE: This one is a bit more grown up than Pac-a-Mac – bitter sweet minor key, nice harmonica if I say so myself. I always liked it.
---
12. THE OPIUM EATERS (Barson)
MIKE: This one came about because we had to come up with an instrumental really quickly, so we took something and changed it – I think it might have been Tarzan's Nuts. Once everyone starts playing it changes quite a lot anyway – that's the wonder of music innit?
CHRIS: It's a very evocative and moody tune which started life as an advert for Martini. I had a Boogie amp on full pelt, turned up to 11, and Clive let me bang away in an improvised manner. Most of the notes I was playing had little resemblance to the chords of the song and I didn't have a clue what I was doing in those bits but I loved making a feedback-y racket. I quite like doing stuff like that without weeks of rehearsal, even though it doesn't always work. Mike was very impressed, as he told me at the time when listening to it on his headphones.
MIKE: We were also trying out exotic rhythms and stuff; Latin music, like rhumba. I think it's a great track but I don't know if we succeeded in getting a Latin American feel on there or not. Often we'd try things and even if we didn't succeed at what we were aiming for, it would turn out original and its own thing.
SUGGS: It's certainly the sound of Nassau with all the crickets on it.
MIKE: To get a bit of the atmosphere, I remember going outside the studio to this little stream and recording all these crickets chirping and croaking frogs and stuff. I also remember having a big bowl of the local marijuana at my chalet, which was incredibly strong, and smoking some and then listening to the finished track. It was pretty wild I can tell you!
CHRIS: We even used it as an intro at one point in our illustrious career.
---
13. DAY ON THE TOWN (McPherson/Foreman)
CHRIS: I wrote the music for this, although I can't really remember doing so. To be fair, there's not much to it, although when I listened back recently the whole song is far better than I remembered; Thommo's sleazy sax is really good.
LEE: It's one of Suggs's better lyrics – it's very home-grown.
SUGGS: I learnt about songwriting through writing songs like Day On The Town. It's about travelling around London in the summer. We were still living a normal enough life to be able to write about bunking the fare on the buses and going to the park. It's the story of a mundane teenage day. Idle hands do the devil's work, or so they say. Then, at the end, there's a twist where there are riots in London. We were never political in the way that The Specials were. We could not have written Ghost Town. But we tackled the riots in a subtle way. We were aware of what was going on and reflected it on our own style. Anyway, for Day On The Town, I tried to make the vocals sound really twee, but with very depressing undertones, and I'm particularly fond of the middle eight. When I wrote the lyrics, I just wrote all about when you bunk off school and that… the emptiness, you know? The main objective of the day is to not pay the fare and anything else that happens is a bonus… you get on buses, you go to Hyde Park, the West End. It was just meant to be empty, just memories of me going round Hyde Park and Oxford Street, getting on buses, getting off buses, walking up and down, people nicking things, tourists that's it. Memories of myself and what I used to do. Then it progressed on when I realised how many other people must do the same thing. We used to bunk off school, and go down Oxford Street where we'd spend all day wandering around doing fuck-all. I never used to really nick much – other people in the group were better at it. I was never very good at nicking – I was a bit of a coward.
LEE: For the 'dub' bit at the end I ripped off Peter and the Wolf by Prokofiev.
CHRIS: In the same section Carl played a trumpet with a mute on it – we did a demo and it sounded great. We were doing some background music for Take it or Leave It and we did a generic Rockabilly track and reggae one too. But it was murder getting him to redo the part he'd done before as good as he'd done it on the rough version for the film.