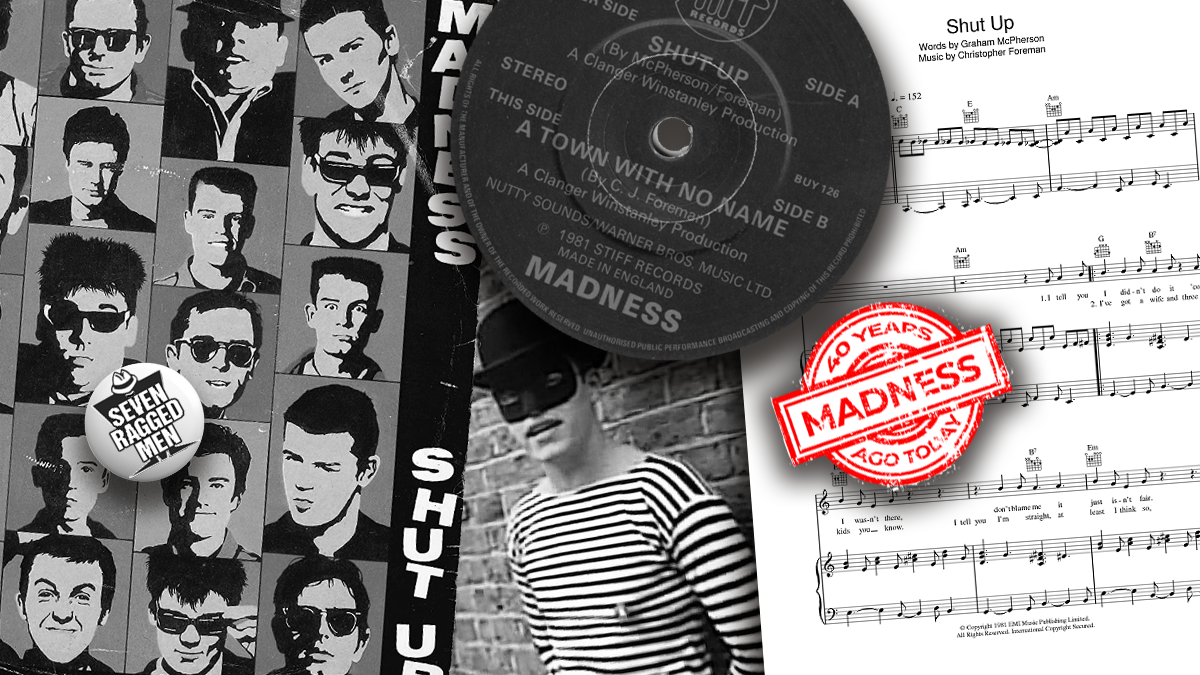 07 Sep

40 years of Shut Up

The band's second single from the upcoming 7 album was released on 11 September 1981. Accompanied by a classic slapstick video, the song reached No7 in the UK charts.

CHRIS: This is a song about habitual criminals which I wrote with Suggs. Many people say, 'Why is it called Shut Up when 'shut up' is not in the verse or anywhere else?' Well, when Suggs originally wrote the lyrics it was a ten-minute opus and it had the words 'shut up' in the chorus. These were then surgically removed to give the song three-minute classic value, during which we also lost another verse somewhere, but we kept the title for sentimental reasons. We must have played the full version live or something but as far as I know we never recorded it with the extra verse.

SUGGS: The song is about inexperienced burglars being caught and trying to waffle their way out of it. Petty crime was a vaguely glamorous thing to be involved with as a kid, then you thought of all the lives it affected and the coppers themselves, chasing after criminals. The original song went on for a few more verses; I think they were about the policeman and his family and him running around after these burglars and then at the end they both meet up in the courtroom with this copper saying, 'Shut up'. Unfortunately these bits ended up on the rehearsal room floor.

CHRIS: I wrote some of it on the piano and was aiming for an ABBA-type feel in the rundown.

BEDDERS: There's definitely an ABBA influence in it; that kind of ba-dum-de-dum-dum piano-led melody that keeps things moving. It's like Waterloo or Dancing Queen, but played in Mike's own way.

CLIVE LANGER: I remember being really involved in the writing of the chorus, and encouraging the 'One! Two! Three!' part. Later on, it was great to go to a gig and see the whole audience doing it.

CHRIS: There's a solo section in the middle which is from another song – it's a bit twangy, a bit Duane Eddy and Wild West, because I also had Slade in mind when I wrote it. Then Clive Langer said, 'Why don't you write a whole song like that?' So I did, and it became the B-side, A Town With No Name.

SUGGS: You can easily imagine Mike's songs like Shut Up and My Girl being sung on the stage of a music hall. Imagine some old comedian croaking out the vocals, accompanied only by a pianist, and it would work perfectly.

CHRIS: For the cover I suggested we used a drawing that had been sent in by a fan called Paul Clewley. He did some other artwork for us over the years but sadly passed away in 2008.

DAVE ROBINSON: For the video, the idea was that at the start, a piano would hit the ground just a few inches away from Mike. There was, however, a slim chance the crane driver lowering it would misjudge things and flatten Barson, so we had a couple of guys standing by, ready to whisk him out of the way pronto if things went wrong.

CHRIS: The video was inspired by Fred Astaire walking on the ceiling plus Buster Keaton, Charlie Chaplin and the Keystone Kops – it was a kitchen sink production. Because I had kids, I had to say the line, 'I've got a wife and three kids you know.' and I also wanted a guitar I'd seen in a shop that was shaped like a gun (the guitar not the shop). I asked someone to hire it but it was unavailable, so I was a bit pissed off when the 'Super Yob' guitar turned up instead. It had one careful previous owner, only 2,000 riffs on the clock… come on down Dave Hill of Slade. The video was later seen by Marco from Adam And The Ants and he eventually bought the guitar. 

SUGGS: It's a favourite video, if not a favourite song. The images are good like the piano dropping out of the sky, me dressed as the burglar, policemen hitting each other over the head; it's slapstick. Without meaning to do so at the time, we were portraying Englishness a bit like the silent films – say the Keystone Cops… things that are indigenous to the time

LEE: For the shoot, we got our hands on authentic coppers' uniforms. Now, can you imagine the fun we had out on the streets in them, truncheons and everything?

SUGGS: We had to go around in a van with half a dozen half-baked ideas and jump out at traffic lights and muck about as policemen. Robbo realised our attention span was very short, so if we weren't enjoying it we wouldn't do another take – we'd just jump in the van go off somewhere else. We were just laughing our bollocks off and taking the piss out of each other and having a great time.

LEE: We discovered The Clash were rehearsing in a half-derelict place right around the corner from Wessex Studios, where Clive and Alan had a studio and where Stiff had picked the location for us to run about. So we were all in these police uniforms and I particularly remember Carl bursting the door open: 'Nobody move! It's the police!' I was behind him and can't remember who else was there, but they definitely weren't on the ground floor because I had these big clown shoes on that wouldn't allow me to go up these steps. I think Topper fell from his drum kit and went straight into the Gents. All you could hear was the sound of doors slamming and toilets flushing.

CARL: They were gutted; they lost all their stash.

LEE: They never spoke to us for five years. It must have been good gear, eh? The fun we had.

CHRIS: I don't know if that story is actually true – it's a bit like one of Thommo's tall tales. Yes, we did have policemen's outfits on when we did the video, but we were filming all day, until about 4am, so I can't verify it because I certainly wasn't there. As the song itself says: 'Pass the blame but don't blame me.' I'll have to ask Suggs exactly when it happened.

BEDDERS: Right from the start, Dave had seen the potential for making videos and got behind it very quickly. Cheaply of course – they were made on such a small budget. I mean, Duran Duran were on a yacht somewhere in the Pacific; we were in a garage in Camden Town.

DAVE ROBINSON: I loved it because you just looked through the viewfinder of the camera and you knew you were going to have something that would be really good. They were so quick and had such a natural comic routine – all of them. That was the remarkable thing; they were all so similar in terms of talent and ability. Very funny, very natural, very witty. And they would do anything, which was what made the videos so exciting. Their lyrics and music lent itself to storytelling. Everything they did was kind of interesting. There was a good kind of plot to it, as well as funny bits.

SUGGS: Whether it was the records, the videos or the TV shows, everything we did was infused with the genuine fun we were having; there was no side to it.

DAVE ROBINSON: Lee was always the secretive one. He would always spend a bit of time thinking about it and doing a bit of research, and would have some obscure thing he wanted to do.

LEE: Our inspirations for the videos as well as the songs were Monty Python's Ministry of Silly Walks, Tommy Cooper, a bit of Ian Dury, Alex Harvey, a bit of Benny Hill and Alice Cooper – anything that was interesting and intricate. I didn't mind dressing up.

DAVE ROBINSON: The only thing was, they had a low attention span so you had to be very quick. So if you didn't get it in the first
 or second take, you were done for. They'd go to the pub or disappear or someone would sell Lee a scooter out the back. Lee would always have some plan and vanish. None of them were early risers either, so I had to go to tremendous lengths to make sure they were ready for work by mid-morning. They were very 
loose like that. They never liked too much organisation so they fitted in very well with Stiff.

BEDDERS: Often the records and videos were two different things. The videos were often loosely related to the records, they were just fun and we bunged in every wild idea we could think of.

LEE: We were like kids in a sweet shop, doing stuff we thoroughly enjoyed. Often, the moves were made up on the spot. We'd discuss it briefly – 'Arms go up there, then down there' – do two rehearsals and then a take in one normally. If we hadn't got it by the third take, we knew we weren't gonna get it at all.

DAVE ROBINSON: The other thing was, there was always a piano on the video shoot. Mike would be playing and I'd regularly find the next single by listening to what he was doing. I'd have it in my head there and then about what the next single was going to be.