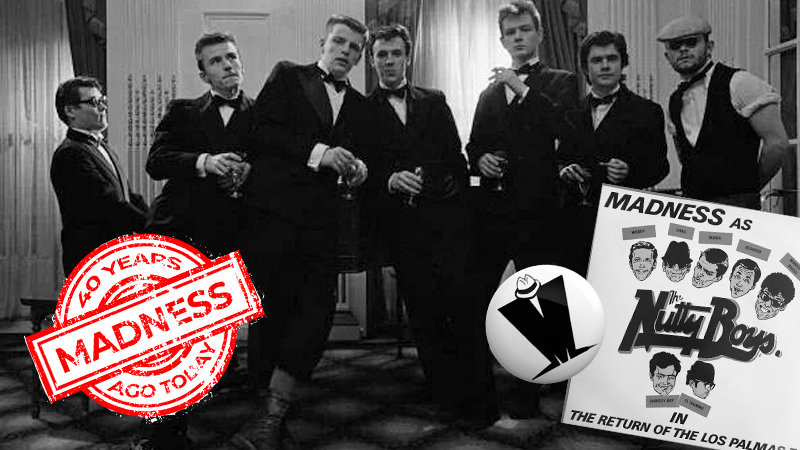 12 Jan

40 years of the Los Palmas 7

BEDDERS: The Return of the Los Palmas 7 one was done on demand, really late in the day…

CHRIS: …because as usual, Robbo insisted on having another instrumental.

CLIVE LANGER: Doing an instrumental had started with One Step Beyond, so Dave thought it was just part of the Madness 'thing'.

WOODY: After thinking we'd done all we had to do on Absolutely, it meant suddenly finding another tune. Enter Mike, who soon got to work on the piano.

CLIVE LANGER: Mike had a book of '60s hits and if I remember correctly, he reversed an old melody.

BEDDERS: The chord sequence is from an old show tune, but you'd never know it really.

WOODY: We took the sheet music for an old Shirley Bassey song – What Now My Love, the English version of a French original song Et Maintenant, written by Gilbert Becaud ­– and changed it completely, giving it a Latin, cha-cha-cha rhythm.

CHRIS: I just remember the boys spent hours working it all out – they were bang at it all day.

BEDDERS: It is one of the few songs that we spent a lot of time in the studio working on.

WOODY: Mike had the chords and the notes, Mark added the bassline and me the drums. We finally found a rhythm that fitted and the more I heard it the more I wanted to go, 'Hey! Cha-cha-cha, you know? Come dancing!' I also said, 'We've got a do a few stops, just to make it as corny as possible' because it was just there. It was a masterpiece in our lunchtime – and that's about the time it took to write.

LEE: It was a right duck-out-of-water experience, or whatever the saying is. Like, 'What the fuck is this music? It's like ballroom dancing!'

CHRIS: In the end I said, 'Mike, give the boys a cut on the writing credits – they've done just as much as you.' So he did.

WOODY: It was my first credit for writing a song and I'm still not sure If I really wrote as much of it as Mark and Mike give me credit for.

BEDDERS: We then had the idea of pretending it was being done by a different band…

CHRIS: …so Carl stuck in the stuff about 'Tommy McGloin', who was his uncle.

Despite the band's hesitancy, the album instrumental (BUY 108) is released on 24 January and eventually reaches No7 in the UK charts.

WOODY: I remember being on the tour bus and Dave Robinson saying, 'I think Los Palmas 7 would be very attractive as a single.' I thought it was a right weird choice, but I was over the moon as I had the credit on it!

BEDDERS: It certainly wouldn't have been the single that I would have picked.

WOODY: Dave had this theory about Europeans liking instrumentals, or sax solos…

BEDDERS: …I think he just thought it would have mass appeal, from grannies to kiddies.

DAVE ROBINSON: I just remember they used to do it in their live set as a sort of final encore to get people to go home, and I really liked it. They couldn't see it all, but I thought if we put a few trumpets on it, we could broaden the band's appeal. Plus getting an instrumental track as a single really appealed to me and I just thought that by now they had the following to deliver it.

CHRIS: It ended up getting a lot of airplay on Radios 2 and 4 as all the old gadgies liked it. It crossed right over.

DAVE ROBINSON: It was a respectable hit despite everybody's attitude that it couldn't be because that kind of track generally didn't really breach the charts. It didn't go quite as I'd hoped, but it's still one of my favourites, even though I still get digs for declaring, 'This could be a really big MOR record.'

CHRIS: The sleeve was based on a t-shirt I got in LA for a garage called the Pep Boys, which we all liked. I think this is when we first called ourselves The Nutty Boys – officially at least.

The video is another trademark Madness original, shot around North London.

CARL: I did enjoy making the video – it was a lot of fun…

MIKE: …and we had a nice bit of chicken lunch thrown in. I think we filmed that part of the video in a gentlemen's club just off Hyde Park.

CHRIS: All we had to do then was walk round Kenwood Park looking moody in cowboy outfits, then eat a meal in the Venus Café on Golborne Road, which was actually our production meeting. This was followed up by an afternoon banquet scene somewhere else. The easiest video ever made.

MIKE: Yeah, Lee suggested doing the banquet scenes, which I wasn't keen on. But of course he was then straight on the table. We also walked around Hampstead Heath dressed as cowboys, and other scenes in a café near Stiff in Westbourne Park.

CHRIS: We were right stumped for visual ideas so decided to use a montage of various '70s and early '80s film clips featuring Star Wars, George Best etc. I don't know who came up with the idea. We suggested a few of the images to use and when it was being edited, I suggested 'more cuts than Friday the 13th'. So the speed of cutting between the clips gets faster and faster. Great video and quite ground-breaking, as that technique was used in a lot of other films and videos. Stuff like that and the tomato sauce bottle turning into the space rocket were great; the whole video was ahead of its time really.