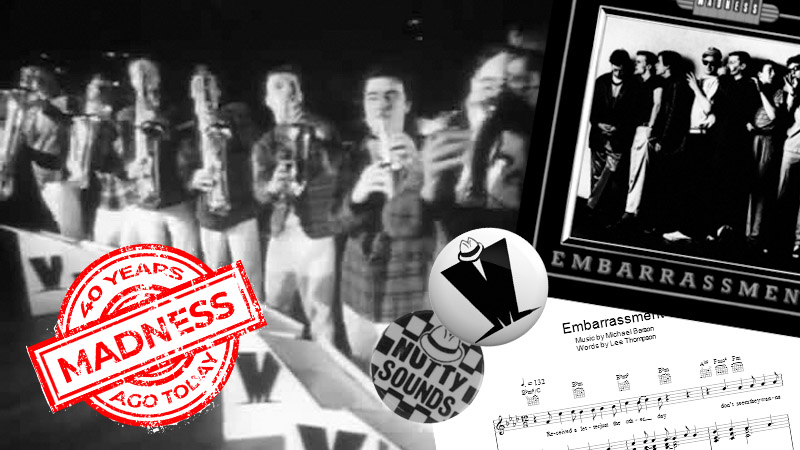 13 Nov

40 years of Embarrassment

The second single from Absolutely is a piece of classic social commentary from Lee.

CHRIS: I think we'd written this well before recording it and had played it live a few times, which is a great help as you think stuff up live. Lee had some lyrics and Mike said, 'I've got this sort of Motown tune.' He's always had this great skill where, if you give him some lyrics he can think of a tune.

LEE: Originally I wrote the lyric to a Prince Buster song called Free Love, then gave it to Mike and said, 'This is the melody.' And he said, 'Nah. I've got an idea, I'll put this Motown-y feel to it.' And of course it worked even better

BEDDERS: We definitely tried to give it a big Motown backbeat.

WOODY: Absolutely – I remember every snare beat had a wood block on it to try and make it sound like Motown.

MIKE: The first time I played the chords in rehearsal I thought it sounded too much like another song, but I couldn't quite put my finger on it. However, no one said anything so I thought, 'OK, if they don't say anything then neither will I.'

CHRIS: With the benefit of hindsight, it does sound a bit like Right Back Where We Started From by Maxine Nightingale, but I think we got away with it.

BEDDERS: It's a truly fantastic lyric by Lee, even if it's not immediately obvious. It's like a lot of his stuff – it needs a bit of decoding. But he's very good at writing about human drama, and you can hear people saying his lyrics; he's got a great ear for human voices.

LEE: Before this, our lyrics were pretty throwaway and we were seen as flash-in-the-pan 2 Tone revivalists. But I was determined to write about this as it meant a lot to me and it was something I had to get off my chest. The rest of the band spurred me on, like, 'You'll get it done!'

CHRIS: The song was about Lee's sister having a mixed-race baby and the reaction of some of his family to this news: 'What will the neighbours think? You're a disgrace to the human race!' Lee's lyrics are really good and right up there with the greats but they are often extremely cryptic but we usually guess the subject matter as we all know him so well.

LEE: It was a true life story of bigotry, verbal bullying and mixed race. It was written in the sleepless hours of a drunken morning after hearing of my sister's pregnancy – by post, by phone, by word of mouth from a few relatives in all eight corners of the world. I thought I'd write a song on the reactions I got from some folk towards young girls having half-caste babies. I remember all the chat, the gossip, the cold-shouldering. It was just not accepted in those days. My sister was shunned by a few people in the family and my father tried to talk her into getting it terminated.  She dug her heels in and I was caught in the middle, wanting everyone to be happy. So I just put it all down on paper.

TRACY THOMPSON (Lee's sister): I was only 17 and was getting these odd dirty look and certain comments, so I think Lee just wrote what my mum and dad were thinking. Mum was a bit of a Mrs Bouquet; she was worried what the neighbours would think, what other families would think… she was even worrying how black the baby was gonna be. I had an aunt who couldn't have children and she wanted to adopt the baby. And my mum and dad also wanted to bring her up but I didn't want none of it – I wanted to bring up my own baby.

LEE: When we got to the studio, the lyrics still weren't finished and I was still adjusting them as Suggs was about to go in and do the main vocal. It was right up to the knuckle and I was getting quite anxious – would I get it done? Would it have to wait until the next album? But I just locked in and gave some words to Mike. I think I only sent him half of them, on a cigarette packet and a napkin, but by the next day he'd worked a tune out to go with them.

MIKE: It was really dodgily written out on a bit of paper you could easily have lost. I have a feeling if I'd mislaid that bit of paper the song would never have got done.

LEE: It wasn't really finished when I gave it to Mike and I was still lost for the last two lines of the third verse. But by the time I could think of anything that was good enough, our glorious leader had already recorded the song with his own lyrics. Cheers Suggs! Although it annoyed me, our Stiff schedule had a record to keep, so I didn't want to make a big thing out of a small problem. In hindsight, I wish I'd had more time to spend on it, but then how long's a piece of rope? I've still got the actual lyrics I wrote in the studio – I put them in the MIS fan club comic, with tea stains all over it, bits rubbed out, a burnt corner, a fag hole in it.

WOODY: I thought it was beautifully written; it was very descript and not judgmental about anyone.

LEE: Looking back on it now, the lyrics were a bit harsh but it had to hit home, particularly in the area that I lived. Some of the attitudes and reaction to mixed race weren't nice at all, but fortunately I was in a position to have a pop back. At the time, the subject was very taboo and I was told, 'That was pretty brave of you, writing those words', but even though I'm not really that opinionated, I wasn't going to brush anything under the carpet in that situation. If I could turn back time I'd spend more time on the lyrics and not be so harsh on my family. But in no way do I have any regrets or am embarrassed about writing Embarrassment.

TRACY THOMPSON: I feel proud of it too – the lyrics are so true.

DAVE ROBINSON: This was one of the moments when they realised that if you had a light, beat-y song, you could be saying anything and people wouldn't really spot it. So they started to address things that other people hadn't.

SUGGS: The Specials would be writing stuff like Racist Friend, but we'd do something like this instead; we weren't waving banners. We were talking about those issues, but in a slightly more abstract way.

CHRIS: We would be writing about quite important issues but we wouldn't be beating people over the head with it.

LEE: It was a good time, dancy, poppy tune with a serious undercurrent, but with a red nose on top.

SUGGS: It's still one of my favourites. People think of our songs as being perfectly pop but musically, it doesn't have a chorus and is kind of unusual – the chord changes take you up and down and round and round. It's deceptively simple, with a very long sax solo and quite dark lyrics, but catchy nonetheless. But lyrically it's fantastic. It's very real and I suppose it's the ultimate Madness song cos it's kind of funny but really quite dark. The music's much jollier than the lyrics. We also tried to sound like a Motown band but failed miserably, which is in itself quite charming.

CHRIS: By now Chas was playing trumpet, which was a great addition too.

LEE: It was certainly a step up in terms of our songwriting. The songs before, we had My Girl for the girls, Baggy Trousers for the boys, and One Step Beyond, where we taught everyone how to dance without their handbag. I was really flattered when Paul Weller put it in his top five songs of all time.

CHRIS: Many years later, I was in Air studios and Weller said, 'I've done this song, it's a bit like Embarrassment' and it turned out to be A Town Called Malice, which is also a great tune.

PAUL WELLER: I'd always wanted to do a song with that Motown beat like Embarrassment. I thought it was great and always wanted to record something with the same rhythm.

CHRIS: I think the song also made an impression on Kevin Rowland because some time later he worked with Clive [Langer] and Alan [Winstanley], and they said he liked the brass sound they got.

PAULINE BLACK (The Selecter): Embarrassment was the only Madness track that I could really relate to, because it's about a mixed-raced kid in a family who's a bit of an embarrassment. It completely related to my upbringing as a mixed-race kid within a white family, who was adopted. Every time we went anywhere my existence always had to be explained, and was always prefaced with, 'She's adopted you know'… to avoid any embarrassment.

SUGGS: It is a great song. I've always enjoyed playing it and never get bored of it. It's a great mixture of everything we stand for. It was written at a time when we were being castigated for being racist. But that's just how Lee writes his songs – it's not always completely clear.

CARL: In those days we didn't tell each other what the songs were about really.

Released on 14 November, the single (BUY102) eventually goes on to spend 12 weeks in the charts, peaking at No4.

CHRIS: The single cover was a photo of us apparently whispering some secret to each other like gossips, or telling each other something embarrassing. It was Dave Robinson's idea. It was a bit crap.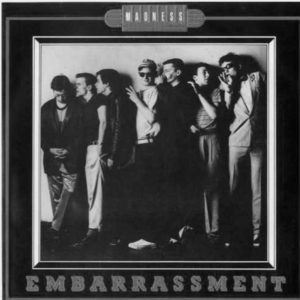 WOODY: I remember Mark Knopfler reviewing it on Radio One's Roundtable at the time and he said the English wasn't very good. I think he missed the point! Lee's lyrics get the message across in a very effective way. It's not correct English, but it's a very moving, beautiful song and people forget that.
SUGGS: It is a great lyric – really sensational. You couldn't believe such sensitivity could come from such a rough diamond, but Lee is one of the best lyricists of his time. We were having trouble with people associating us with the National Front, so it was nice to establish once and for all that we weren't.
MIKE: Lee is a very good lyricist.  Sometimes when I get some of Lee's lyrics, then it's quite easy to come up with something quite interesting to go with and that was the case here. But I don't know where he gets his ideas from, beats me, y'know, but it all comes out of Lee, he's a mystery. What's going on in there?
CHRIS: For the B-side, Crying Shame, I was going for a Mexican Tijuana-type feel and quite surprised myself. In those days you had to get in quick with a solo or Thommo and Mike would be all over the shop.
The video is shot in a North London social club.
CHRIS: The video was a bit different as we'd started separating Suggs from the band a bit, getting him wearing a different colour suit etc.
MIKE: The video was a bit dark and moody for my tastes.
CARL: It was a bit dull and unimaginative.
CHRIS: I'm not sure if people got the significance of Mike being blacked up at the end either.
LEE: I don't really remember much about shooting it; I think it was all shot in the same bar. I do remember we weren't allowed to touch the drinks – in fact, I think they marked the optics to see if anything had been taken.
CHRIS: I just remember that, for his two – two! – sax solos, Lee said, 'I want to be on a rotating plinth with dry ice.' Of course he got what he wanted.