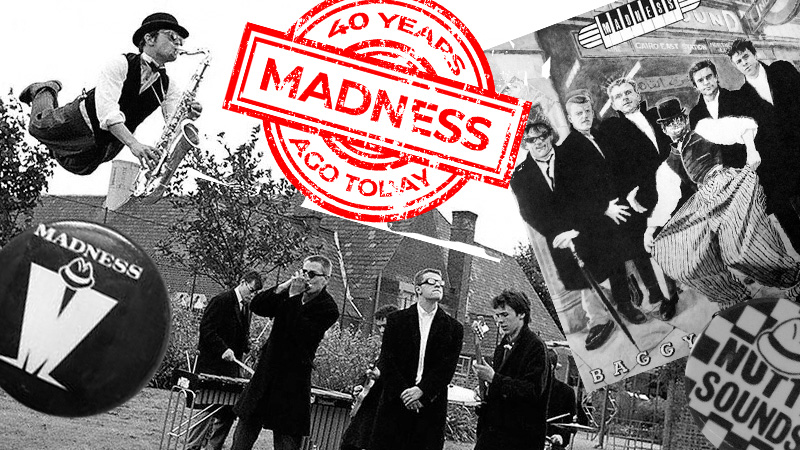 04 Sep

40 years of Baggy Trousers

On 5 September 1980, Madness released their new single – Baggy Trousers.

LEE: My Girl was the start of our success and then Baggy Trousers sealed it.

WOODY: It came right in the middle of writing a whole load of songs very, very quickly. Suggs was a big fan of Ian Dury and writing in your colloquial tongue, so he wanted a song where it wasn't all flowery and poetic, it was how you spoke.

SUGGS: It was supposed to sound like Ian Dury. It was about school in London, but also as an answer to Pink Floyd. They'd had that song, Another Brick In The Wall. And I remember thinking it was a bit rum, they'd gone to these famous public schools and they were singing, 'Teacher leave the kids alone'. It sounded sinister and strange, but also self-indulgent to be going on about how terrible school days had been. There was an inverted snobbery about it, too: 'You went to a posh public school? You wanna try going to MY school.' I'd gone to this really horrible school and I thought, 'Well, these teachers aren't finding it any easier than I am.' I mean, it was chaos. I also thought how boring it must have been from a teacher's point of view too, particularly where there were 2,000 boys and a very small percentage interested in anything other than going home.

BEDDERS: Suggs famously wrote the lyrics while he was staying at Lee's house on the Caledonian Road. He said he wrote them quite quickly.

SUGGS: I was thinking about all my memories of school as I lay on the floor of Lee's flat after a night at the Hope. I was face-down on the floor in a sleeping bag, pen and pad in hand, and started writing a list of everything I could remember from my days at Quinton Kynaston. I was trying very hard to write a Dury-esque catalogue; that constant stream of description about a very small part of your life. It wasn't the easiest job at first, as I'd hardly been there for the last few years. But the memories began to trickle in: 'Naughty boys in nasty schools…' In a couple of hours I had about six pages, some good, a lot boring, all from my own experience of the sort of nonsense we used to get up to. The chorus was a bit trickier, as I was trying to get across the craziness that occurred at school in the battle against boredom, but balanced with a certain sympathy for the beleaguered teachers. I hoped that at some point a title and chorus would emerge and they did: Baggy Trousers just sounded like an unusual title and I couldn't think of anything better. By the morning it was done. Lee and Deb had gone to work and I realised I had no money to get home, which is why I'd kipped there in the first place. I borrowed 12p from Thommo's biscuit tins, just enough for ten fags and my bus fare home (I must pay him back one day). I then turned up at rehearsals with my new words, Chris had a bit of a tasty riff on the go, and the words just slotted in perfectly. The melody, if you can call it such, materialised spontaneously.

CHRIS: Originally, I wanted it to sound like The Faces, but we soon put the old ska button on it and away we went. As well as writing the words, Suggs also suggested the four chords that lead into the song, which has a hint of a smidge of Hoots Mon by Lord Rockingham's XI.

BEDDERS: It definitely does sound the same as that – let's say it was an homage…

CHRIS: We also needed a school bell-type sound for the intro, so we got Woody to hit a fire extinguisher, hence his credit on the album. Mike also did some brilliant mouth organ on it.

MIKE: It was the first and last time I played the fabulous Hohner Super 64 Chromonica. An orchestra in the pocket!

CHRIS: To be honest, at the time I didn't think it was that good, as it didn't have a conventional chorus, and I'd kind of made up the middle eight on the spot. I certainly didn't think it would be a single and never in a million years did I think it would be a hit. D'oh!

The video for the song is filmed in the park in Kentish Town and Islip Street School in Kentish Town.

CHRIS: We filmed most of the promo, including that famous flying sequence, inside and outside the school. A few yards to the left of it is the pub that we all went to for our lunch break after leaving Lee trussed securely up hanging from a crane. It used to be called the Oxford Arms and had a stripper every Thursday (or so someone told me). Further on is a grassy knoll – the second most famous, after the one in Dallas – and a play area where we filmed some kids playing football near a block of flats called the Forties, which Lee lived in as a kid when I first met him. There were lots of kids running riot – kids from the 'hood.

DAVE ROBINSON (head of Stiff records): It was filmed at the school because several of the band had actually gone there. They were very happy that some of their old boys hadn't ended up in Wormwood Scrubs and had actually got a livelihood.

LEE: It was good to keep things local… very local.

WOODY: Shooting the video was really quick – it only took an afternoon.

CARL: If you notice, in the school gym scenes I'm wearing a fake hand. I don't know why.

MIKE: My missus was there somewhere in the background, sitting on the grass saying: 'Bloody rubbish. What is this?'

CHRIS: By now, Lee had already started giving himself the best roles in our videos.

CARL: Flying up in the air was definitely his own idea.

LEE: I'd seen it done by Peter Gabriel at the Drury Lane Theatre one night when me and Chris bunked in to see Genesis. He was singing A Flower? and he had this harness on and suddenly something went BOOM! and he flew through the smoke on a wire. I thought, 'One day, I would really love to do that.'

CHRIS: I remember him going on about doing the same thing when he got the chance. Little did we know.

LEE: The thing that immediately came to mind was someone in a big baggy pair of trousers in a high wind taking off, so I suggested to Robbo to get a crane in.

DAVE ROBINSON: Lee said he'd seen somebody do some trapeze something and said, 'Is there any way I could fly in this video?' I said, 'Probably not.' He was always wanting to do obscure things.

CHRIS: Lee was insistent he wore the baggiest pair of trousers we could find, so we got these trousers from Bermans & Nathans and they were humungous – 64-inch waist. They'd belonged to Peter Ustinov, the great man itself. It was a great honour, even though we had to let them out for Thommo (ha ha).

DAVE ROBINSON: A few people thought the flying scene couldn't be done, but eventually I found this circus guy who'd done James Bond movies with this kind of trapeze idea. He said, 'Oh yes, you can do that; you just use a crane and some wires.' I just thought, 'Hmm. Let's make sure the strapping is nice and tight.'

CARL: So we turned up on the day of the shoot and saw this crane, but we didn't know why it was there.

DAVE ROBINSON: Lee used to keep everything secret from everybody, so he hadn't told the rest of the band what he was up to, and we certainly weren't going to tell them. So the crane arrived and the group were none the wiser – they didn't know that Lee was gonna slap on this thing and fly. It meant when he took off they were genuinely amazed. He went sailing past Suggs's nose and I was shouting at the crane driver, 'Get him up! Get him up!'

CHRIS: He was up there on these quite thick wires, so I thought, 'This is gonna look so two-bob – you're gonna be able to see how he's doing it'. But that was the fantastic thing; we went to see the rushes and you couldn't see them.

LEE: Yeah, the wires not showing was a real coup.

DAVE ROBINSON: There's a clip of Suggs looking up, totally amazed, as he starts flying – none of the band had seen him doing it.

WOODY: It was just such a shock when he suddenly started flying. From where I was sitting, I honestly couldn't see the wires, so it was like, 'Fantastic!'

SUGGS: You can see me going, 'I hope he doesn't fall on my head.'

DAVE ROBINSON:  I remember being really impressed that Lee managed to keep his equilibrium and his sax in his mouth. He'd never even tried it out, so it was really something else. Particularly as we found out later that he was in agony.

LEE:  The crane driver was on Guinness and had scars all over the place because of a prior accident. I said, 'I don't wanna come back looking like you Quasimodo.' He put the harness on, they winched me up and that's when I felt a very sharp pain – it really made my eyes water. What it was, they'd caught part of my scrotum in the strapping and made a love bite effect round me nuts. It was like a painful itch that could not be scratched. Then the driver fucked off to the pub for 20 minutes and left me hanging there above this spiked fence. So we did the business – three or four times, I think – I came down, took the thing off, got home and it was black and blue. I went to the doctors just for a check-up. I asked him to take away the bruising but leave the swelling (laughs). It was a painful experience, but it was worth it.

DAVE ROBINSON: The only thing was, the cameraman didn't shut the magazine on the camera properly, so we nearly lost it all.

CHRIS: There was a hair in the gate or something.

DAVE ROBINSON: Jeff Baynes was the cameraman, and his assistant forgot to close the magazine that the film was in and the light got in. So very little of the flying stuff actually came out. What ended up in the final video was us doing the run-through – although you can't tell it's a practice run.

CHRIS: Lee originally wanted to have six dummies which represented us, and he was going to fly through the air and kick their heads off. But we thought, no, Top Of The Pops would never show that, so we toned it down and they just appear in the pub scene instead.

DAVE ROBINSON: People who interviewed me later on said, 'Where was the net?' And I said, 'Net?'

LEE: I'd demanded some sort of safety net but Robbo said he couldn't afford it. Typical Robbo, but it ended up being the business.

DAVE ROBINSON: Although it was simply shot in a school playground, more people probably saw that
 video than anything. People would even show it on the news.

CHRIS: This video was really important as we started using a lot of other elements, rather than just playing live. It was the first one we did that everybody noticed and we became known for our videos as much as our music. From then on, everyone was saying, 'Have you seen the new Madness video?' It  established us as video legends.

ADAM ANT (80s pop star): Many videos at this time weren't about anything except allowing directors to try this or that technique in order to make the band look exciting. The only other band doing anything remotely interesting in their videos were Madness, whose videos made me laugh. I considered them the opposition at the time – especially Lee, who was very funny.

LEE: Looking back, it's a shame I never did a complete somersault because then it really would've looked like, 'Hey, he's doing it with no hands!' That's stuck with me ever since. Unfortunately, there isn't a wire thick enough to hold me up now.

CHRIS: Sometimes the best things are the ones that have nothing to do with the song, like Lee flying. People all remember it. It was a very important point for us – we realised we had to monopolise on the old wire-hanging.

LEE: There doesn't really have to be a reason for anything, it just has to look really good. People think me flying was some sort of expensive process but it wasn't… it was just a crane!

CARL: We still meet kids who are now grown up and go, 'I was in that video – that was my school.'

For the single artwork, Madness commission a special pencil drawing from an on old friend.

SUGGS: For the cover, Humphrey Ocean, a great painter and old pal of ours, who'd also played bass with the Kilburns, did a fantastic illustration of what would become the Absolutely album cover, with us all standing outside Chalk Farm station.

CHRIS: We commissioned Humphrey because we really liked his stuff. There was a 10cc album called The Original Soundtrack which had a pencil-drawn cover which we really liked, so we got him to draw us in the same way.

BEDDERS: Humphrey actually came on tour with us once – not for any particular reason, he just came along for the ride. Sometimes he used to come on stage in a white suit and dance.

CHRIS: I think he streaked once.

When the band receive the first copies of the single, not everyone is happy…

CHRIS: I was most proud of Baggy Trousers as it was the first single I'd written the music for – before that I'd only really written three or four songs. So imagine my disappointment when got the first pressing, looked at the label and it said 'Composed by Barson/ Foreman/ McPherson'. I went mad and thought, 'Barso's done me again after Bed and Breakfast Man!' I asked Stiff why it said such falseness and they said, 'Oh Suggs told us.' So I rang him up and he said: 'Oh sorry, that was me.' Enough said – he's not too good on details. So I soon got it changed. Barso's name should not be on the songwriting credits – I do hope he never got a penny (ha ha).

After its release on 5 September 1980, Baggy Trousers spends 20 weeks on the UK charts, peaking at No3 and attracting a new generation of young fans.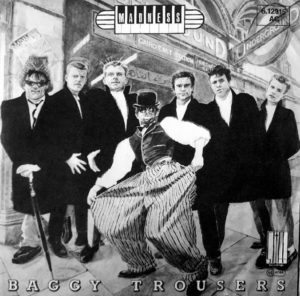 SUGGS: Baggy Trousers really was a turning point. Up until then we'd thought we were quite groovy teenagers, getting groovy teenage chick fans, then we ended up with this horde of undernourished urchins. Baggy Trousers had been latched onto by kids and suddenly we had this enormous under-16 demographic. It had just gone pop-fucking-tastic. It wasn't quite the demographic we were hoping for, but suddenly it was an amazing phenomenon; a load of ten-year-old twerps following us everywhere you looked.
MIKE: It was great. It was all we wanted and finally we got it. Everywhere you went, people would start whispering and pointing.
SUGGS: I remember I was walking past a school playground with Joe Strummer and I was saying, 'I don't know what's going on – it's getting a bit weird.' And then we turned the corner and all these kids on the swings were singing Baggy Trousers. And Joe said, 'What's to complain about?' It was just hard to – what's the word? – assimilate.
CARL: Suddenly there's kids dressed identically to you looking up at a gig. People coming up to you with tattoos of you. People looking in your window when you're at home.
SUGGS:  It still strikes me as funny that young kids went for it in such a big way. People seem to think it was about primary school, but it was actually meant to be secondary school.
WOODY: The other misnomer is that the 'baggy trousers' don't relate to the kids, it's actually the teachers. Suggs's image was teachers wearing gowns and mortarboards and baggy trousers and so on.
SUGGS:  That's true – 'baggy trousers' weren't supposed to be some sort of Dickensified notion of shorts, they were those horrible big trousers that everybody wore in the 70s; great flapping things they mistakenly called Oxford bags. With four-button waistbands and for some peculiar reason, pockets down by the knees, the ensemble set off perfectly with a lovely pair of snub-nosed stack-heel shoes.
CHRIS: I just remember that when it came out, Kate Bush was reviewing it on Round Table on Radio 1 and she said it was 'funky'. We were not worthy!
SUGGS: Certainly all the things I said about school on Baggy Trousers were true, and they haven't changed. I also wrote a song about one of the teachers, it was really horrible, but I never did it: 'Oh Mr Pound, where are you now? / When you lashed out with the blackboard rubber / Your Bobby Charlton hairdo flying / I was diving under desks for cover / And when I was not quick enough / I'd hit him squarely on the head /  He hated everyone in London / And I lay there thinking I was dead.'