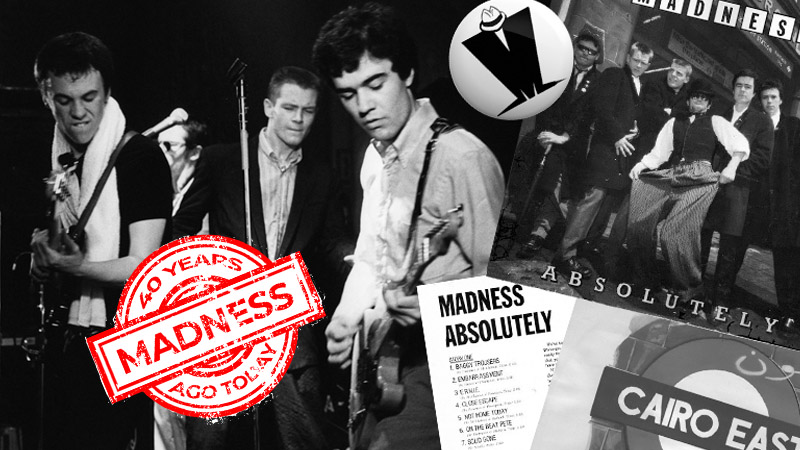 25 Sep

40 years of Absolutely

Advertised as 'The Camden Cowboys Ride Again', and produced by Clive Langer and Alan Winstanley, Madness record their second album in double-quick time in 1980.

WOODY: We were under a great deal of pressure to put out a second album, so it was written and recorded in about six weeks. We went into the studio and literally bashed it out, so it was all a bit of a blur.

BEDDERS: It was done unbelievably quickly because of the demands of Stiff and Dave Robinson. We'd been playing most of the songs on One Step Beyond live, so it was easy to go into the studio and recreate what we'd been doing every night. But we almost had to write Absolutely from scratch in a very short space of time. We didn't rehearse for very long, but although it was written under pressure, and rehearsed and recorded with indecent haste, it produced some brilliant songs.

CHRIS: Despite the nutty image, we worked really hard and took it really seriously. We went to a rehearsal room called Nomis in Earls Court, which was owned by Simon Napier-Bell, and had this huge blackboard on which we scribbled a big list of stuff.  Various members would bring tunes and lyrics and we'd write them up and then go through them.

WOODY: People would come in with a song and write up the title until we had this big list. Then we'd say, 'Right, first song: What are the chords?' So someone would write the chords down, and then someone else would say, 'So how does it go?' And it was just – bosh, done.

MIKE: I started writing down the songs on the board, and scribbling all these quite complicated chord changes just to keep track. Where our early stuff had been riff-based, it was all becoming much more complicated.

CHRIS: I think we'd written some of the tracks before we went in there, and even played one or two, like Embarrassment, but most of it was done as we went along.

BEDDERS: We'd worked hard while we were touring earlier that year and bedded in a lot of the songs live. So things like Baggy Trousers and Embarrassment were virtually ready to go by the time we got to the studios, with any problems ironed out.

CHRIS: On The Beat Pete and E.R.N.I.E were also pretty polished from being played live, so they were easy ones to record too. The rest we just did as we went along. Although it was finished in a relatively short time, it was an enjoyable experience.

Throughout recording, the band are keen to develop their sound from One Step Beyond…

SUGGS: We didn't really have time to think about it, but were very conscious of not making a carbon copy of our debut. Like The Specials, we were aware we needed to move on with each album. We'd spent three years carving our own little niche, then 2-Tone came and it was great, but we didn't want to latch onto something, find the bandwagon off the rails and end up labelled as just another ska band. So Absolutely painted a more accurate picture of us as we tried to move away from all that stuff. All these old influences that had been piling up in our heads – rock 'n' roll, prog rock, R'n'B, Ian Dury – started to filter through instead.

BEDDERS: It was a very important album. Not only did it move us away from being a one-trick 2-Tone band, it built the foundations of a lot to come. The chart hits and songs like Overdone showed a different side.

WOODY: It was certainly a step forward – I learned how to spell 'embarrassment', found the perfect fire extinguisher for a bell on Baggy Trousers and got my first songwriting credit on Los Palmas 7.

CHRIS: I'd just bought a black Fender Stratocaster from Woody's brother, Nick, and had discovered the joys of the tremolo arm. I was trying other new things too. For example, Clive Langer said: 'Oh, you should put a sitar on this', and I was thinking, 'How am I going to play one of those?' But it turned out being like a conventional guitar and I went on to use it on a lot of our records.

CLIVE LANGER (producer): I enjoyed it too because they let me get on with this one. I think Mike definitely cottoned on early that I had a love of the perfect pop record, and then they all did. They were smart.

DAVE ROBINSON (head of Stiff records): They were smart – all of them were good and had something going on, as well as being great fun.

BEDDERS: I'm always amazed by how disciplined we were. Someone said we rehearsed like the German football team – it was all very worked out and meticulous.

While Langer and Winstanley polish the 14 finished tracks, the band debate what the album should be called…

LEE: I remember that Robbo bored us to death with the reasons why the album should be called Baggy Trousers…

CHRIS: …but in the end it was named after a saying by our then sound man, tour manager and driver, Tony Duffield.

LEE: Ha! That's right; whenever we asked him something, he'd go, 'Yeah man, absolutely, absolutely.'

CHRIS: Actually, I heard a rumour that, after working with us, Tony was with Yazoo and their album, You And Me Both, was named after another of his sayings.

BEDDERS: I also liked Absolutely because it was a one-word name like Handsome by The Kilburns. In fact, we were recording in the same building as Ian Dury and I bumped into him and he asked what we were doing and I said, 'We're making another album, and I think it's going to be called Absolutely.' And he said, 'Sweet.' So him liking it was good enough for me.

With the name quickly in the bag, the band's plans for the sleeve don't work out so easily…

CHRIS: For the cover, we decided to take a picture outside our beloved Camden Town tube station, but we couldn't get the right angle because of the pedestrian barrier outside the entrance, so we had to settle for Chalk Farm instead. We had a final choice of two photos from the session; one the band liked and one Dave Robinson liked. We looked more threatening in the one we liked and of course he preferred his choice because he wanted us to be all nice and cuddly. So we argued for a bit and then I said: 'Let's do 50/50 and use both shots.' Robbo agreed but of course, you can guess what happened – we never saw our one in the shops. In retrospect, I think he did pick the better picture. Interesting fact: the Crombie I'm wearing was from an Oxfam shop.

Released on 26 September 1980, Absolutely goes on to spend 46 weeks on the UK charts, peaking at No2.

BEDDERS: It's certainly our best pop album, and I think most of the band agree.

CHRIS: I'm not sure. I listened to it a while ago because I'd always imagined it to be really good but everything's really fast and off-beat. Our third album, 7,  was where we really changed.

MIKE: It certainly had that distinctive Madness sound. We were attempting to develop it and there were some changes – for one thing we could play better by then. It was more tuneful, with more melodies, but it was still what you'd call a city sound. That's because all the songs were written about experiences in London, where we came from.

BEDDERS: I like it because it's a really 'up' record and the variation of the tunes is really impressive. It's definitely one of my favourite albums – all killer and no filler.

SUGGS: I just remember after it was done we were off on tour and I got given a cassette of it as we were getting on a plane to Japan. And that was the first time I'd heard it finished – it was done that quickly.

WOODY: The only thing was, we had to relearn the songs again after we heard the album because it was like, 'Oh, you put a bit of keyboard there, I didn't know we'd done that.'

CARL: We didn't even pick any of the singles as it was coming out so quickly.
---
1. BAGGY TROUSERS  (By Foreman & McPherson, Time: 2.45)

CHRIS: Baggy Trousers was the first single I'd written. Before that, I'd only really written three or four songs. Originally, I wanted it to sound like The Faces, but we put the old ska button on it and away we went.
BEDDERS: Suggs famously wrote the lyrics while he was staying at Lee's house on the Caledonian Road. He said he wrote them quite quickly too.
CHRIS: At the time I didn't think it was that good, as it didn't have a conventional chorus, and I kind of made up the middle eight on the spot. I certainly didn't think it would be a hit single. D'oh!
---
2. EMBARRASSMENT  (By Barson & Thompson, Time: 3.13)

CHRIS: I think we'd written this well before recording it and had played it live a few times, which is a great help as you think stuff up live. Lee had some lyrics and Mike said, 'I've got this sort of Motown tune.' He's always had this great skill where, if you give him some lyrics he can think of a tune.
BEDDERS: We definitely tried to give it a big Motown backbeat.
WOODY: Absolutely – I remember every snare beat had a wood block on it to try and make it sound like Motown.
MIKE: The first time I played the chords in rehearsal I thought it sounded too much like another song, but I couldn't quite put my finger on it. However, no one said anything so I thought, 'OK, if they don't say anything then neither will I.'
CHRIS: With the benefit of hindsight, it does sound a bit like Right Back Where We Started From by Maxine Nightingale, but I think we got away with it.
BEDDERS: It's a truly fantastic lyric by Lee, even if it's not immediately obvious. It's like a lot of his stuff – it needs a bit of decoding. But he's very good at writing about human drama, and you can hear people saying his lyrics; he's got a great ear for human voices.
CHRIS: The song was about Lee's sister having a mixed-race baby and the reaction of some of his family to this news: 'What will the neighbours think? You're a disgrace to the human race!' Lee's lyrics are really good and right up there with the greats but they are often extremely cryptic but we usually guess the subject matter as we all know him so well.
LEE: It was a true life story of bigotry, verbal bullying and mixed race. It was written to the tune of Prince Buster's Ghost Dance in the sleepless hours of a drunken morning after hearing of my sister's pregnancy – by post, by phone, by word of mouth from a few relatives in all eight corners of the world. I thought I'd write a song on the reactions I got from some folk towards young girls having half-caste babies. I remember all the chat, the gossip, the cold-shouldering. It was just not accepted in those days. She was shunned by a few people in the family and my father tried to talk her into getting it terminated. My sister dug her heels in and I was caught in the middle, wanting everyone to be happy. So I just put it all down on paper.
TRACY THOMPSON (Lee's sister): I was only 17 and was getting these odd dirty look and certain comments, so I think Lee just wrote what my mum and dad were thinking. Mum was a bit of a Mrs Bouquet; she was worried what the neighbours would think, what other families would think… she was even worrying how black the baby was gonna be. I had an aunt who couldn't have children and she wanted to adopt the baby. And my mum and dad also wanted to bring her up; they absolutely adored her. But I didn't want none of it – I wanted to bring up my own baby.
LEE: The clock was ticking down to go into the studio, so I gave the words to Mike. I think I only sent him half of them, on a cigarette packet and a napkin, but by the next day he'd worked a tune out to go with them.
MIKE: It was really dodgily written out on a bit of paper you could easily have lost. I have a feeling if I'd mislaid that bit of paper the song would never have got done.
LEE: It wasn't really finished when I gave it to Mike and I was still lost for the last two lines of the third verse. But by the time I could think of anything that was good enough, our glorious leader had already recorded the song with his own lyrics. Cheers Suggs! Although it annoyed me, our Stiff schedule had a record to keep, so I didn't want to make a big thing out of a small problem. In hinsidght, I wish I'd had more time to spend on it, but then how long's a piece of rope?
WOODY: I thought it was beautifully written; it was very descript and not judgmental about anyone.
LEE: Looking back on it now, the lyrics were a bit harsh but it had to hit home, particularly in the area that I lived. Some of the attitudes and reaction to mixed race weren't nice at all, but fortunately I was in a position to have a pop back. At the time, the subject was very taboo and I was told, 'That was pretty brave of you, writing those words', but even though I'm not really that opinionated, I wasn't going to brush anything under the carpet in that situation. If I could turn back time I'd spend more time on the lyrics and not be so harsh on my family. But in no way do I have any regrets or am embarrassed about writing Embarrassment.
TRACY THOMPSON: I feel proud of it too – the lyrics are so true.
DAVE ROBINSON: This was one of the moments when they realised that if you had a light, beat-y song, you could be saying anything and people wouldn't really spot it. So they started to address things that other people hadn't.
SUGGS: The Specials would be writing stuff like Racist Friend, but we'd do something like this instead; we weren't waving banners. We were talking about the same issues, but in a slightly more abstract way.
CHRIS: We would be writing about quite important issues but we wouldn't be beating people over the head with it.
LEE: It was a good time, dancy, poppy tune with a serious undercurrent, but with a red nose on top.
SUGGS: It's still one of my favourites. People think of our songs as being perfectly pop but musically, it doesn't have a chorus and is kind of unusual – the chord changes take you up and down and round and round. It's deceptively simple, with a very long sax solo and quite dark lyrics, but catchy nonetheless. But lyrically it's fantastic. It's very real and I suppose it's the ultimate Madness song cos it's kind of funny but really quite dark. The music's much jollier than the lyrics. We also tried to sound like a Motown band but failed miserably, which is in itself quite charming.
CHRIS: By now Chas was playing trumpet, which was a great addition too.
LEE: It was certainly a step up in terms of our songwriting. The songs before, we had My Girl for the girls, Baggy Trousers for the boys, and One Step Beyond, where we taught everyone how to dance without their handbag. I was really flattered when Paul Weller put it in his top five songs of all time.
CHRIS: Many years later, I was in Air studios and Weller said, 'I've done this song, it's a bit like Embarrassment'. It turned out to be A Town Called Malice, which is also a great tune.
PAUL WELLER: I'd always wanted to do a song with that Motown beat like Embarrassment. I thought it was great and always wanted to record something with the same rhythm.
CHRIS: I think the song also made an impression on Kevin Rowland because some time later he worked with Clive [Langer] and Alan [Winstanley], and they said he liked the brass sound they got.
PAULINE BLACK (The Selecter): Embarrassment was the only Madness track that I could really relate to, because it's about a mixed-raced kid in a family who's a bit of an embarrassment. It completely related to my upbringing as a mixed-race kid within a white family, who was adopted. Every time we went anywhere my existence always had to be explained, and was always prefaced with, 'She's adopted you know'… to avoid any embarrassment.
SUGGS: It is a great song. I've always enjoyed playing it and never get bored of it. It's a great mixture of everything we stand for. It was written at a time when we were being castigated for being racist. But that's just how Lee writes his songs – it's not always completely clear.
CARL: In those days we didn't tell each other what the songs were about really.
---
3. E.R.N.I.E.  (By McPherson & Foreman, Time: 2.08)
SUGGS: Back in the days of steam, the closest the poor people of this grey island had to a National Lottery was a huge machine called E.R.N.I.E., the letters of which stood for something like energy rationalised national integrated something bollocks. Anyway, this monstrous mechanism was kept in the bowels of the Ministry of Fun and fed Premium Bonds which were purchased by the public to help the war effort in Crimea. Well, every 20 years or so, E.R.N.I.E. would spit out an unpalatable bond and if the numbers matched yours, you would be the lucky winner of 15 guineas. So basically, people who could ill afford it would give their money to the government in the trillion-to-one chance of winning a few bob.
CHRIS: Only Suggs could write a song about Premium Bonds!
BEDDERS: It's definitely one for people of a certain age; I think 'A thousand winners every week' was their slogan on adverts at the time.
CHRIS: It came out pretty much as I wrote it. Musically, I was aiming for a Kinks-type strumalong and I remember Clive saying, 'It really is like The Kinks.' So I was chuffed because I absolutely loved them.
MIKE: We had to use an old Roland Chorus amp on this, plus we retuned the piano for that pub piano sound, played twice at slightly different speeds. I used to play the piano bit by bit through the songs (still do) and as soon as 'it' went out we stopped and rolled the tape back a bit and then continued. Two fingers was all I needed most of the time, trying to maintain a certain intensity.
BEDDERS: It's a great song. I always think we should play it live more.
MIKE: I'm not so sure about that – the piano's a bit hard to play and I can barely get through the solo.
---
4. CLOSE ESCAPE  (By Foreman & Thompson, Time: 3.29)

MIKE: Lee was always fond of this one – and still is I believe.
LEE: The lyrics came to me almost immediately, so it was written very quickly. It's the sequel to In the Middle Of The Night and is about the same character, George, as I wanted to keep him alive. This time, instead of jumping across gardens and stealing underwear, he's moved up the ladder and is now a heavy-breather down the public telephone box receiver.
CHRIS: Its creation was pretty typical of what would happen, where me, Mark, Mike and Woody would go and do the music and work up the tunes, and then Suggs and Thommo would come in, start listening to them and adding stuff of their own. So for this one, Lee went, 'Oh! This could be about Nice Man George again.' So suddenly it became this follow-up to In The Middle of the Night, with George now a pervy phone caller. I stuck in some James Bond-type guitar in the breaks which is something I really like and always try to do whenever possible.
BEDDERS: Woody does brilliantly on it because it's a bit of a tongue-twister musically. He has to play a really odd but really great rhythm.
CHRIS: Lee says he's thinking of re-inventing George as an internet stalker for a third instalment, although Mr Apples isn't far off I suppose.
---
5. NOT HOME TODAY  (By McPherson & Bedford, Time: 2.30)
CHRIS: This one was a bit of social comment from Bedders and Suggs, as it was about a local kid called Perry Buckland from Suggsy's area who was sent down for murder. It's another example of a serious subject wrapped up in quite a catchy tune, which of course we didn't ever seem to get credit for.
BEDDERS: I think the videos were often to the introduction to the band at this time, so people naturally assumed we were wacky. You just hoped they would listen to the songs and realise there was a bit more depth there.
CHRIS: I really like the harmonica from Mike over the intro.
MIKE: I had the Super Hohner 64 harmonica out again on this one, so I guess Baggy Trousers wasn't the last time I played it! It's a nice tune and a good lyric from Suggsy. We got the vibes out on this one too – Clive was always up for something different.
---
6. ON THE BEAT PETE  (By Thompson & Madness, Time: 3.05)

CHRIS: This was written by Lee and I did a lot of stuff on it but he credited the whole band which is very fair of him. He's very generous like that.
LEE: I've got a thing about authoritative uniforms and fat laughing policemen, so this one is a tale of your local community copper who would help old ladies across the road, sit and have a sup with your local wino, and who'd sooner give you a clip round the ear than a record. Pete is a good, honest pig who doesn't want any stripes and promotion, just job satisfaction. Because of Pete's high blood pressure, he now resides in Broadmoor on full pay and has keys to come and go as he pleases.
BEDDERS: It was written the day before we played the Hammersmith Odeon and went down so well when we played it as an encore, the kids were singing the chorus after the first three verses.
WOODY: It was good to hang out our dirty linen in public like that – it's the best test of a new song there is.
CHRIS: The false endings were inspired by the ending of Roxy Music's Re Make/Remodel, when it has multiple stops and all the band have a little solo. So we all did a bit at the end too.
BEDDERS: When we subsequently played it live, sometimes we would set off at such a fast pace that trying to fit all the words in was nigh-on impossible for Suggs.
CHRIS: He still has trouble trying to fit them all in – the autocue will be scrolling like mad. It's a common problem with Lee's lyrics; I reckon he thinks Suggs is like Eminem.
---
7. SOLID GONE  (By Smash, Time: 2.22)
MIKE: This was the multi-talented Mr Smash getting back to his roots.
CHRIS: Carl said, 'I've got this idea for a song', so we literally wrote it in the studio. Most of us liked rockabilly and old rock 'n' roll; we used to play Jailhouse Rock before we started writing our own songs, so it came quite easily. Basically, Carl sang it to Mike and we all worked it out around the piano very quickly, which was a lot of fun to do. We were all kind of just doing our own things, which was nuts.
BEDDERS: I don't remember much about it to be honest. I think we did it so quickly in the studio that it was the one and only time I've ever played it.
CHRIS: The piano solo was a la Jerry Lee Lewis and we were also going for a Gene Vincent-type of thing. I did a pale imitation of a Cliff Gallup solo; it's one of my favourites ever. I was also pretty good at shouting 'YEEE HAAA!' in the background. In fact, we were all shouting 'YEEE HAAA!'
---
8. TAKE IT OR LEAVE IT  (By Barson & Thompson, Time: 3.26)
CHRIS: Written by Lee and Mike, I've got a feeling that this started off as something else.
BEDDERS: Yeah, I think it originally was an instrumental that we did as an experiment.
MIKE: It was actually inspired by the name of a Roxy Music track and was mainly a poetic expression of my continuing mental state. I wished I'd written it as some kind of subtle message about the atomic bomb, but I didn't.
CHRIS: It's certainly quite a dark song with a great intro and a very complex bassline. I had fun doing some noisy guitar bits and we used a lot of echo and repeat. I always thought reggae-type rhythm guitar should be very neat and clipped but Clive told me to use a dirtier guitar sound.
MIKE: It actually has an odd time signature, like Pink Floyd's Money. Later tracks like Tomorrow's Dream also had a similarly odd rhythmic quirk.
BEDDERS: It has got a hard bassline to play, but it's a great song and is still very popular when we do it live. And of course there's another brilliant lyric from Lee – very human.
LEE: This was inspired after we'd been to Italy, where we saw policemen walking about with guns. At one particular gig in Turin, there was a load of Italian fans who couldn't get tickets, and the windows started to get put through. The doors got busted open, and all these punters come running in and immediately they were engulfed by smoke – the police had fired smoke bombs at them. There seemed to be arms and legs and batons and fists coming out of the smoke, like a Tom & Jerry cartoon. And when the dust cleared, it was the police smashing themselves up, because the fans had run off. It was a bit of a funny scene. But I remember thinking how lucky we were in England – we could be living in South America, in some dictatorship.
CHRIS: The original lyric was 'When it's too late / Don't come cry to me', and Suggs added 'if' in there so it became 'When, if it's too late…'. And that little 'if' made it more hopeful. He's very optimistic, our Suggs – I should take a leaf out of his book.
MIKE: In the studio, they had an old Hammond in the corner and it still worked, so we used that. We had to hire in the Marimba though.
CHRIS: Clive and Alan also did a really good dub version, which we called The Business and which ended up on the B-side of Baggy Trousers. It's still very popular live
---
9. SHADOW OF FEAR  (By Barson & McPherson, Time: 1.58)
MIKE: This was the first time me and Suggs put pen to paper together.
CHRIS: I think Mike had the tune and Suggs wrote the lyrics, which are pretty weird and quite filmic. It's a strange and quirky song and has some nice plucked strings. It's also very short at only one minute and 58 seconds.
BEDDERS: I'm all for that! I'm always saying to Suggs, 'Come on, let's make this song shorter.' I think we should get back to two minutes and 30 seconds.
MIKE: We played this in 2019 for the first time in many a year and I had to admit it was better than I'd thought.
CHRIS: I could just about remember it when played it again; there's some nice twangy guitar on there.
---
10. DISAPPEAR  (By Bedford & McPherson, Time: 2.58)
CHRIS: This is a great song, even if the tune reminds me of something else.
BEDDERS: There are certainly no prizes for guessing what it was influenced by ­– I was listening to a lot of Jackson Five at the time.
CHRIS: It was about Alexander Palace burning down, so quite a topical song – well topical at the time obviously. If you want to be poncy about it, it's almost like an old storytelling folk song that you pass down to your children, with great lyrics by Suggs.
BEDDERS: When you're making an album, it's funny that events like this can come to the forefront and go straight on to the record.
CHRIS: Anyway, it was a popular live song and most enjoyable to play, with a great piano break and intro from Mike, and me on the sitar again.
MIKE: Who would have guessed my sister Susie would one day get Alexander Place listed by English Heritage and save it from destruction?
---
11. OVERDONE  (By Thompson & Foreman, Time: 3.45)
LEE: This was about regrets, of which I've had many. We can all hit a nerve point in the heat of the moment with people and none more so than with family, so I was thinking about how much shit I'd put my mum through. As my dad was away a lot, serving for Her Majesty's, I felt I had to bring in the bread and put money on the table, which I did quite often, but she really didn't like that I was following in my dad's footsteps. Every mother's nightmare. So Overdone is my apology to my mother, although I never brought it up with her, as she was more into Dean Martin and Jim Reeves. But it was like a hidden message – a letter of regret.
CHRIS: While Lee wrote the lyrics I was trying to write a Chic-type song. I was trying to get that Nile Rodgers fast, tight, clipped style and cheated by slowing down the tape.
MIKE: It's one of my favourites; a nice moody track that encapsulates the period and brings back memories of getting the train to Eden Studios in Acton in 1980.
BEDDERS: I just remember we dedicated it to John Lennon later in the year when we were on tour. I woke up in Edinburgh and heard on the radio that he'd been shot, so when we did the song that night, Suggs said a few words and dedicated to him.
CARL: After it came out, this friend come up to me and said the words were so true. He said he'd written to his mum and dad and found out they'd been divorced and died, and that's the sort of things people started to identify with in our songs.
CHRIS: It's good, but still not how I imagined it; songs never came out the way you thought they would in those days. These days it's all on Logic, which is much more refined than a sheet of paper with some chords on, but not so much fun.
---
12. IN THE RAIN  (By McPherson & Madness, Time: 2.42)
CHRIS: I seem to remember that this was recorded somewhere else before the Absolutely album itself, in between the One Step Beyond sessions.
BEDDERS: You're right – it was originally done in Basing Street, in West London, during that middle part between One Step Beyond and Absolutely. I think it was about New York.
CHRIS: The intro was a bit punky; we were trying to do Police and Thieves Clash-style. It sounds like Mike had some sort of synth keyboard in the solo bit where he and I play the same sort of tune. He'd moved on from the Vox Continental by now, anyway. I also remember that Suggs had a bit of a cold when we recorded it – you can definitely hear it.
---
13. YOU SAID  (By Barson & McPherson, Time: 2.35)
SUGGS: As with a lot of songs we wrote together, my memory is unfortunately not altogether clear. From what I recall, this tune was written by Mike, in the days when we rehearsed in the disused dentist's surgery in Finchley Road. Mike had the title and some of the words and I wrote the rest. A simple story of a girl leaving a boy. I thought at the time that it sounded rather Elvis Costello-ish. I may have been wrong.
MIKE: It still brings back good memories of the Finchley Road basement while we were incubating what was later to be.
BEDDERS: It was definitely written early on, around the time of One Step Beyond but for whatever reason, it didn't make it on to the first album. I think we might have changed the rhythm of it a little bit and then it became the song you hear today.
CHRIS: It's quite hard to play and there are some difficult bits near the end especially, so when we played it again in 2019 I had the chords stuck on the wall.
---
14. RETURN OF THE LOS PALMAS 7  (By Barson & Woodgate & Bedford, Time: 1.57)
BEDDERS: This one was done on demand, really late in the day…
CHRIS: …because as usual, Robbo insisted on having another instrumental.
CLIVE LANGER: Doing an instrumental had started with One Step Beyond, so Dave thought it was just part of the Madness 'thing'.
WOODY: After thinking we'd done all we had to do, suddenly it meant finding another tune. Enter Mike, who soon got to work on the piano.
CLIVE LANGER: Mike had a book of 60s hits and if I remember correctly, he reversed an old melody.
BEDDERS: The chord sequence is from an old show tune, but you'd never know it really.
WOODY: We took the sheet music for an old Shirley Bassey song – What Now My Love, the English version of a French original song Et Maintenant, written by Gilbert Becaud ­– and changed it completely, giving it a Latin, cha-cha-cha rhythm.
CHRIS: I just remember the boys spent hours working it out – they were bang at it all day.
BEDDERS: It is one of the few songs that we spent a lot of time in the studio working on.
WOODY: Mike had the chords and the notes, Mark added the bassline and me the drums. We finally found a rhythm that fitted, and the more I heard it the more I wanted to go, 'Hey! Cha-cha-cha! Come dancing!' I also said, 'We've got a do a few stops, just to make it as corny as possible' because it was just there. It was a masterpiece in our lunchtime – and that's about the time it took to write.
CHRIS: In the end I said, 'Mike, give the boys a cut on the writing credits – they've done just as much as you.' So he did.
WOODY: It was my first credit for writing a song and I'm still not sure If I really wrote as much of it as Mark and Mike give me credit for.
BEDDERS: We then had the idea of pretending it was being done by a different band…
CHRIS: …so Carl stuck in the stuff about 'Tommy McGloin', who was his uncle. It ended up getting a lot of airplay on Radios 2 and 4 as all the old gadgies liked it. It crossed right over.