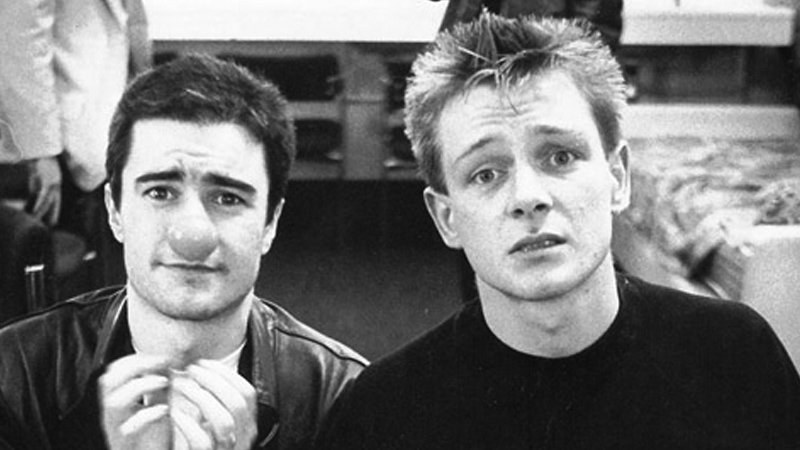 01 Feb

Chris & Carl's Ska Top 21

1. GUNS OF NAVARONE: The Skatalites
CHRIS: Absolutely classic ska, a Coxsone Dodd studio One production.
 Everything about it is right – the tempo, the instrumentation, the 
vocal noises, everything. It was a hit in England – it got in the 
charts years after it came out in Jamaica, but it's one of those 
records that still sounds as good today.

2. DOUBLE BARREL: Dave & Ansell Collins
CHRIS: I remember when that came out, I knew it was going to be
 number 1. It had everything a record should and it was fun.
CARL
: A huge inspiration to us at the beginning of One Step Beyond, 
that echoey voice with the 'Hey you,don't watch that watch this.'

3. SURFIN': Ernest Ranglin
CHRIS: This was one of those kicking instrumentals, where, as well
 as his lead guitar work, the guitar doubled up with the bass to 
really lift the beat. There were quite a few like this around from
 that period in the 1960s and I think Ernie Ranglin played on most of 
them.

4. JESSE JAMES: Laurel Aitken
CARL: J-E-S-S-E James/Jesse James rides again'… a great pumping 
beat on it, with all the ricocheting gunshots, really exciting.
 We've been trying to rip it off for years.
CHRIS: And we've just about succeeded.

5. THE TEN COMMANDMENTS: Prince Buster
CARL
: This has to go in because its so un-PC, talking about the rules
 a man ought to lay down for his wife. My wife hates it. I can
 remember a party once where all the men were up dancing to this
 record and when it finished the women kept playing Sisters are Doing
 it for Themselves.
CHRIS: Then there was another one to reply to it, The Ten 
Commandments Of Woman , with the same backing track but just a
different vocal. So that could go on too.

6. VAMPIRE: The Upsetters
CHRIS: I remember buying this one because I had no money , but had 
to buy this tune. It was one of those wacky instrumentals that were
 all the rage at the time. Boris Gardiner's Elizabethan Reggae was
 another. John Crow skank was the style, as it had plenty of organ,
 like a bird flirting about. They used to play them up at the ice 
rink we used to go to – when I hear this style now, I immediately
 think of skating.

7. SWAN LAKE: The Cats
CARL: There was such a sense of fun about the reggae industry back 
then. This was a time that anything that might be a hit was bashed
out in reggae. Some of it made sense, but a lot didn't. Like this
 one, Swan Lake as a three-minute reggae number.
CHRIS: We used to do this tune and we've just started doing it
again – it went down very well in America.
CARL: As soon as we started rehearsing this song, I came over all
1968 and 1969 again.

8. IT MEK: Desmond Dekker
CARL: This was a real youth club record. It was one everybody would
 dance to, as it had that driving bass with the horns keeping it up
 and you could sing along to it. There was enough of the lyrics that
 everybody could understand. It was a perfect example of early reggae
 that was just starting to gain a bit more substance.

9. SKINHEAD SPEAKS HIS MIND: The Hot-Rod All Stars and The Cimarons

CHRIS: Suggs had this. I'm pretty sure it's off the Skinhead
 Moonstomp album [it's not – Ed], and that skinhead didn't have
 much to say. The tune had a cooking reggae beat, but the lyric was
just one word "Skinhead…skinhead…skinhead", over and over 
again…classic.


10. MY BOY LOLLIPOP: Millie
CARL: My mum and dad were dancers and they showed me how to dance
 to the hi-life, which came before this, and then when this came out
 it broke the whole ska thing wide open and that's what they'd be
 dancing to. I remember it on our radio in the kitchen all the time.
 It was the first dka record that made an enormous impact on me and
 the one that led me into the rest.

11. THE HARDER THEY COME: Jimmy Cliff
CARL: Going to see this film late-night when I was young was
 fantastic. We'd have nicked a bottle of vodka from somewhere, had a
load of spliff and would sit there marvelling at the music and what
 the music business was like in Jamaica. Years later when we worked
with Rico, he'd tell us stories that would make us think that The 
Harder They Come was actually true to life.
CHRIS: We do this ourselves from time to time.

12. KANSAS CITY: 

Laurel Aitken

CARL: This was a cover of the R&B number, and it shows how close ska
 and R&B are as there is so little structural change. The song just
 seems to get a bit of a lift in the ska version.

13/14/15. MADNESS/AL CAPONE/GHOST DANCE: Prince Buster

CARL: We took our name from one of these, it was just one of those
 classic ska records that sums up the era for anybody that was there,
while the others prove how cool ska could be. Together, the three of
 them show that there was always more to ska than people thought. It
 was really versatile music: Al Capone is that frantic pace everybody 
knows – Our One step Beyond tries to get close to that – whereas
 Madness is more mid-tempo, far more subtle without losing any of the
 excitement. Ghost Dance was the B-side to sit down and cry by the
 sweethearts and is practically for slow dancing. Prince Buster means
a lot to us: The Prince was our tribute to him.

16. BLOOD AND FIRE: 

Niney

CARL: This may a bit too late for this compilation, but it fits late
 because it's so simple. It's fantastic! There's practically nothing 
going on, just the same chords and virtually the same 'blood and
 fire' lyric , but it's so powerful. It sums up so much of what reggae
 and ska is all about.

17. BONANZA: Carlos Malcom and The Afro Jamaician Rhythms
CHRIS: There were so many versions of the Bonanza theme tune, as it was 
by far the most popular TV show back then, but this one was purely 
instrumental, except for a lot of horses neighing in it.

18. STAR TREK: 
The Vulcans
CHRIS: There were a lot of this type of record out in the late
 1960s/early 1970s when the synth had hit reggae in a big way and 
space themes became big business – UFO was another huge hit. It's 
also a reminder what a sense of fun reggae had back then, when they
 cover the Star Trek theme and know that they are having a laugh
 with it when they put it to a reggae beat. It just couldn't leave you
 feeling serious.

19. PIED PIPER: Bob & Marcia

CARL: This is a great example of why reggae opened up so wide in the 
early '70s, because Trojan were taking tunes like this (good strong 
reggae tunes) and adding the strings. It wasn't enough to change the
 vibe of the record, but it meant it was so much easier for the radio 
and record buyers over here to deal with. Because the record was so 
good to start off with it created some good pop tunes.
CHRIS: 
We can't have too many Trojan records on here, because they 
brought the English pop sensibilities to reggae and that was what got 
it over here to a large audience.

19. WET DREAM: Max Romeo
CHRIS: I remember the first time I head that, it was playing 
through a speaker outside a record shop, just over and over again. 
Because it was banned on the radio this was the only way the kid s
were going to hear it, so they'd stand outside listening and 
laughing. It was still a hit, but that has as much to do with it being
 a really good record.

21. UNDER MI SLENG TENG: Wayne Smith
CARL: This is about as modern as we're going to get. Although this
 was the one that precipitated the whole digital reggae revolution,
 it's got a lot of the old sensibilities about it. Although it's
 simple, it's still powerful – it's a strong enough rhythm to be
 versioned countless times yet still sound fresh and has a bounce and 
sense of fun about it that so many of the other recent records lack.
 It's about weed, not AK-47s, so it fits in well here.