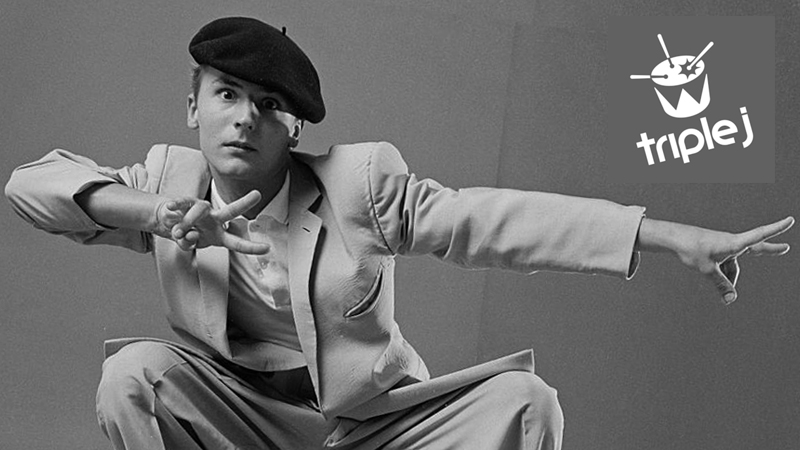 07 Feb

Woody's words of wisdom

WOODY ON…JOINING THE INVADERS

They thought I was a right geek, which I was really; long hair and Kickers and dungarees. It was like, 'Get your hair cut and buy yourself a suit mate.' I got a three-tone suit in Oxfam for £2; it just about fitted me. But I was still the same person underneath. The main thing was their desire to stop me playing technically. I was doing flash rolls and little triplets on the bass drum and it was like, 'Don't do that. Just do boof, bash, bosh.' I was like, 'What, all the way through?' And they were like, 'Yeah!'

WOODY ON…MIKE AS LEADER

Mike really led people by the nose. If you didn't fall into line, he would be the one who would get really pissed off. We were a bit flaky really. Sometimes we wouldn't turn up to rehearsals, but Mike was the one who pulled us all together. He was the one who had the dream and it was like, 'It will be fulfilled.'

WOODY ON…ONE STEP BEYOND

When I listen back to [the album] now, it's just so naive musically, but it's still wonderful. It's seven very young individuals having a great time. We sat for hours arguing against having [the title track] as a single but Robbo was adamant that it should be the one. But it was the right choice – it just kicked the band in, right away.

WOODY ON…DANCING

There were times in the early days when you'd have photographer or a TV crew saying, 'OK! All come out one by one and do a nutty dance!' And it would come to my turn and I would be, 'Oh my God, what do I do?' I can't dance to save my life so I just stood there and froze. It was awful but the band soon realised that it just wasn't me and rallied behind me: 'Don't ask Woody to dance.' It didn't help that our road crew, Toks and Chalky, were excellent dancers and had this unique style. They had it, Carl had it, Suggs had it, Lee was just a brilliant dancer, and it was all like, 'Get your arms right up to your chest and stick your bum out and wiggle away.' I don't know where it stemmed from.

WOODY ON…VIOLENCE AT GIGS

It got very rough. The worst thing was talking to European journalists who said, 'Yes, I was at your gig and I was beaten up.' We were like, 'We really are terribly sorry but it's got absolutely nothing to do with us.' It got to the point where journalists were convinced that we affiliated ourselves with a fascist right-wing movement. There was all kinds of rubbish written. But we didn't want to stop anyone coming. You can't say you're into equal rights but then say, 'Skinheads can't come to our gigs.' It's exactly the same – it's a form of prejudice. You can't tell by appearance and we found it really distressing that people were being discriminated against because of their fashion. There were so many skinheads who were complete wimps. They might have had all the clothes but really they were just fashion victims. We knew that there was just a miniscule handful of hard-core National Front and British Movement. It's like at the football – you'll always get a few idiots who start a fight.

WOODY ON…SKINHEAD FANS

As we dropped the ska and became more pop, we lost the skinhead element of our supporters and appealed to a much wider audience. The skinhead element just died out. I remember at one open-air gig, this one skinhead called to me through some railings. So I went over and he said, 'You've sold out. You've left us all behind. You're not worthy of anything.' I thought, 'What's the matter with this bloke? All we've ever done is play the music that we want to play and hope that people enjoy it.' He got really upset cos he thought we were their crowning glorious leaders or something. It was really upsetting.

WOODY ON…HOUSE OF FUN

I remember the whole controversy of it being about buying condoms. I mentioned it to someone in the press, and the next thing I was dragged in by Dave Robinson and told I must keep my mouth shut and mustn't mention it because the record would be banned. He said, 'If the BBC find out about it, we've had it.' I was told I mustn't explain a song I didn't write!

WOODY ON…BEING WACKY

There was this constant backlash against our image as nutty, zany chaps. We were trying to prove that our music was worthy and that we had a lot more to say. In Europe it was terrible – they almost saw us as some sort of circus act. We were like, 'We're a band, we're here to do a gig and promote our record. Why do you want us to act like a bunch of idiots?' Lee is the nuttiest bloke in the world, but it would never feel like he was making a fool of himself because he was so amusing and wacky. He always said, 'If you believe in it and you're not scared, you can do anything you want. And if you don't care what people think, you'll look natural.'

WOODY ON…SPLITTING UP

It was getting quite painfully stale. You knew in your heart of hearts that you shouldn't be doing it. It wasn't genuine – it was almost like a pretence. We were going against all the things we said we wouldn't be; a staid old boring rock band. We'd been there, done that, seen it all and made the film, printed the t-shirts and written the book. Everything that a band could do, we'd done. Musically, it was getting very difficult to be fresh and new. For me, it was a relief it was all over because by that stage it just was just hard work; it really wasn't any fun any more. Thank goodness we had the bottle to stop it – or at least some of us did.

WOODY ON…THE MADNESS

When the band split up, I think everyone looked around and thought, 'Well, where now?' And I think the four of them [Suggs, Carl, Chris and Lee] genuinely didn't know what they were going to do and out of insecurity just stuck together. It's a little sore in my side. For me, it was a bit sad really. I can look back now and be objective as I know the four other members needed to do it just to get it off their chest. They had ideas that they could come up with something fresh and new without the distinctive bass and drum sound that Mark and I gave the band. But it just didn't work – it didn't have the magic.

WOODY ON…REUNITING

Getting back together was a mixture of everything. When rumours were going around that we were getting together in meetings – even though we'd been meeting up regularly anyway – the phone started ringing, saying, 'Are you getting back together again?' 'No' 'Would you like to?' 'Well make us an offer.' So then the offers started coming in and some ridiculous figures started being bandied around. We sort of went, 'Why not? If people are offering us this kind of silly money we could have a laugh as well.' But it wasn't just about the money. We did this little pilot programme for Channel 4 and Go! Discs, who Carl worked for. We did House Of Fun and It Must Be Love in front of a live audience and it was brilliant. We did two days' rehearsals just to make sure we could still play and it felt strange – it didn't have the magic. But as soon as we stepped out on stage in front of an audience it was like we'd never been away. As well as the two numbers, we also threw in Madness as that was the track we thought we could all remember and it just came back like we'd been playing it all the time. But we always were better live – it's just one of those things. Anyway, we got such a high from it, it was almost like, 'Let's get back on stage and do even more.' It was a real buzz; it was just so fantastic.
Many thanks to Mark 'Chigs' Charlesworth for supplying the recording. Listen to the full interview here: