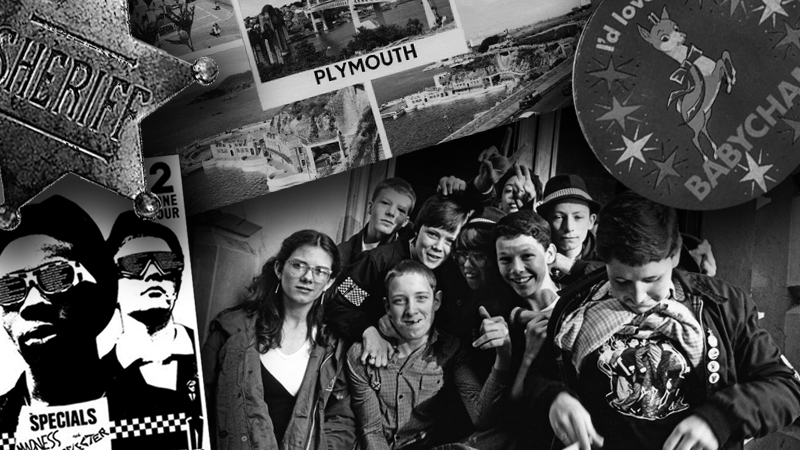 08 Nov

Wild west country, 1979

A few weeks before the 2-Tone Tour was booked to play the Fiesta Suite in Plymouth, the booking agent called the club and was talking to the manager, Ivor, who was a good bloke but a bit older. All I remember were profanities and a heated discussion: 'Who the fuck are Madness?' I didn't stop to explain.

I'd seen the band on Top Of The Pops and heard them on the radio, and to me they were like a breath of fresh air. I like a lot of old ska and reggae and had been a skinhead back in 68-70, so I could hear where they were coming from musically.

GREEBOS AND GOLD LABEL

On the day of the gig – October 23 1979 – the 2-Tone Tour trucks pulled up outside the club and I thought, 'What the fuck?' Skins and rude boys were piling out of old cars and trucks, along with older hippies doing the road crew. The first touch of irony was that the 'humpers' – local guys who got in free in return for carrying the gear – were all long-haired greebo types, more used to Motörhead and Iron Maiden.

The Fiesta Suite was quite big and we'd had some great bands there. But I knew this was going to be different as it was organised chaos, with about 40 people milling around in the empty club. The members of the three bands stood out as they huddled together, working on their sets and chasing for drinks.

Some of the band members asked me if I could get them a pint, but I didn't have the keys to the bar, so I raided my lock-up and got a few crates of Hemeling and Arctic Lite lager, which went really fast. It was mostly the Madness guys, but they were really polite about it. I also swiped a few cases of out-of-date Babycham, Gold Label and Cherry B and remember the guys on the sound desk slugging it back.

Madness stood out the most as they were so ordinary and chatty – I thought they were really cool, polite and full of energy. I also distinctly remember Pauline Black having a bit of verbal with one of The Specials who was moaning about something. She put him in his place, telling him: 'You were playing in a fucking pub last week.'

Eventually the PA towers were stacked either side of the stage, some lighting stands were put up, and that was about it.

NUTTINESS AND NAZIS

By about 6pm there was a huge queue of people outside and the owner had to get a few extra door staff. It was a full house, with lots of 'new' skins and students, along with the musically curious NME readers – a real mixed bunch.

The doors opened at 7.30pm and the crowd poured in. There was the usual rush to the front of the stage, which was about 3ft off the ground and had no crowd barriers. Because it was so wide, it was actually in two parts, and rolled underneath the back stage for DJ-only nights (more of which later).

First on were The Selecter who were great, with Pauline bouncing around the stage. The crowd went nuts and I was a bit worried the stage was going to collapse, as it almost had with Eddie Tenpole a few weeks before (he was brilliant; nice bloke too).

On came Madness and that was it; they created a massive party from moment I introduced them. I didn't realise it was going to be as wild as it was but they were truly nutty and I had a great view from my DJ booth beside the main stage.

The guys bounced around with Suggs, Lee and Carl really giving it some. I remember trying to hand Chrissy Boy a pint a few times but it was chaos and almost totally lacking in control. Madness were a lot of fun. Yes, they were a bit raw and rough around the edges, but the atmosphere was superb.

The only thing that soured it a bit were some 'new' skinheads who didn't get the concept of just having a good time. Some gave Nazi salutes and the like, but we had some fearsome doormen who chose their targets and threw them down the stairs at the stage exit. A couple of other twats also thought they were at a punk concert and I could see they were getting to the band, but again the doormen tossed them out. It meant the majority could just enjoy the gig. 

COWBOYS AND COLLAPSES

By this time, Carl and Lee were bouncing around in one spot so much that the rolled-out stage started to collapse. I tipped off one of the bouncers who got Dave the handyman/bottle guy to help. Dave often dressed up as a cowboy, complete with hat and big silver guns, and it was hilarious to see him crawling behind Woody and his drum kit, followed by four huge bouncers in bow ties. I wish I'd had a camera!

Dave and the bouncers slipped through a hole and took some blocks of wood to prop up the collapsing stage, while another guy tossed a few sheets of old carpet onto the hole that Carl and Lee had created. The front stage kept moving and shaking, but our very own John Wayne and his posse held on grimly underneath, averting disaster.

There's one other thing I remember very clearly about the Madness set: There was a lovely Chinese restaurant immediately below the Fiesta dance floor, and the owner Mr Wong suddenly appeared, bellowing at our staff about how his 'FOCKING' chandelier was swaying and dropping glass onto diners. It was all very surreal!

STARES AND STRIPES

I really enjoyed the gig and admired Madness's energy and sense of devilment. I've followed them ever since and saw them at the Henry J Kaiser auditorium in Oakland, California, where I later lived. It was odd as the crowd weren't as bubbly as us Brits – they just hung around staring and didn't quite get the concept of clever pop songs jumbled into ska.

Also, I reckon there were probably more than 70 cops there, with loads of police cars parked with flashing light between the stadium and local transit station.  Oakland is a lovely city, but is well known for its drive-by shootings and high murder rate, so it really stood out. I remember thinking that Madness and their fans were better protected than supporters at a Chelsea v Millwall game.  The cops were pretty cool – but pretty forbidding too.

My wife is American and Madness have been part of our world since we met in 1993. After moving back to Plymouth, I've seen the lads at the Pavilions and am off to the House of Fun weekender at Butlin's this year. I'd like to meet them again – maybe they could thank me for all that booze I wangled for them way back in 1979…
Many thanks to David for this story. Find out more about his work with Plymouth's Pilgrim Ambassadors on the One Small Candle website.