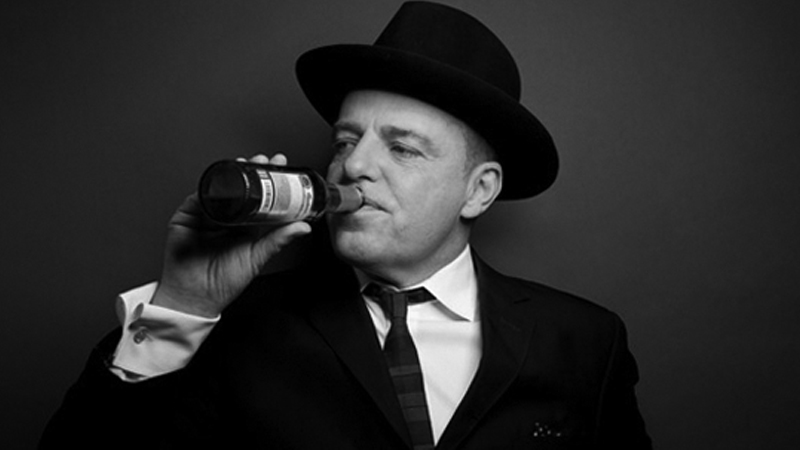 28 Feb

Suggs' Favourite 13 Albums

Roxy Music – Roxy Music
My mate used to work at WH Smith's record department, and the salesman from Polydor had been in and said "'Ere, we've got this record. It's a bit weird, lad, but everyone seems to like it…" So he bought the lot, 50 copies. And it's that old cliché: it sounded like it came from outer space. It was like nothing I'd ever heard before. I wasn't really mad on rock music as such, and I was young, so I heard it with my formative listening ears, and it struck me as something really exotic and other-worldly. You listen to those songs: no choruses, solos that go on for hours, and… not that I'd compare us to Roxy Music in the slightest, but when we were writing some of those early songs like 'Night Boat To Cairo' and 'Embarrassment', they were songs that had no chorus, and verses and solos that went all over the place, and didn't have a verse-chorus-verse-chorus structure, and I'm sure that in some very small way was informed by Roxy Music. Even down to the fact that they don't mention 'Virginia Plain' until the very end, which is what we did with 'Embarrassment'! "You're an embarrassment…", the last word of the song. I never saw them live, but I do clearly remember seeing them on The Old Grey Whistle Test, and old Whispering Bob (Harris) saying 'If that's the future of rock & roll, then I'm fucking off!' And fortunately, it was. And the whole glamour of that album sleeve, and the portraits of the five of them inside the gatefold, and the clothes they were wearing… Andy Mackay had these sunburst crepe-heeled Toppers, I think they were called, that I spent months trying to find, and they were fifty quid even then. And you'd nick the poster off the Tube, but you'd have to rip off eight posters in one go, so you ended up with this completely rock-hard Roxy Music poster that you couldn't roll up under your arm, and you'd try and pin it to your wall but it would keep coming off. All that formative stuff's so important.

Primal Scream – Screamadelica
This was when Madness were out of action, and ecstasy was in the air, I was checking out this and checking out that, and I remember hearing 'Loaded' in a supermarket in Kilburn High Road and I said "Fuck, what's this coming through the speakers?" But I was reminded of it because I saw Primal Scream at Glastonbury this year, doing the whole album, and it just reminded me what a fucking great album it was. 'Higher Than The Sun', I think, was their masterpiece. I don't think anyone got it better, that ethereal space between rock and dance music, than them with Andy Weatherall. I thought Happy Mondays were great, and The Stone Roses, but I thought Screamadelica was really sensational.

King Tubby & Augustus Pablo – King Tubby Meets Rockers Uptown
It's just timeless space-age music. Music that was recorded with so little technology, and yet it sounds so technological. It's spontaneously recorded and spontaneously mixed, and yet it sounds like it's been arranged, by four thousand producers, four million Trevor Horns. But it was just two blokes pushing faders up and down with a couple of space echoes. It's an amazing sound, and it's amazing what they did in Jamaica, especially people like Lee Perry and King Tubby. Sonically, they transformed music. It was quite difficult to get hold of at the time: there was one shop in Finsbury Park, which was quite a threatening place to go if you were a young spotty skinheaded kid. I remember Johnny Rotten used to go there, but he was a bit more fearless I think! But there would be house parties where you'd hear a bit of it, and it would filter into places like Rough Trade, and spread to Rock On in Camden Town, and you'd end up, er, borrowing lots of records that you never gave back…



Various Artists – The Harder They Come soundtrack
The film was shown at an all-nighter at the Screen On The Green at the Angel, and for teenage boys the film was great, a bit of James Dean-like rebellion… but the soundtrack, fucking hell, it's just relentless! 'Pressure Drop', 'Many Rivers To Cross', 'The Harder They Come', 'Johnny Too Bad', on and on, every single track's a winner. And that's still an album I can put on, absolutely no problem, day or night. At one of our Madstocks we got Desmond Dekker and Toots (Hibbert) to come on and do '54-46 (Was My Number)', and they were loving it, to the point that it's a very hard song to end, cos it's just a riff, so by the time we'd played it the fourteenth time, an hour and a half had gone by and they were still happily skipping around… Also, at the first Madstock, we were on the tour bus and our manager said: "There's a feller here who says he's Prince Buster". So we were like "Fucking hell, who knows, it might be him, let him on", and it was! We'd got the name of our band from him, our first single was about him, we'd recorded his songs, but we'd never met him… and suddenly, at our revival in 1992, there he was! So we got him onstage to sing 'Madness' with us, and he was a charming man. I think for those chaps it's a double-edged sword, because they were happy that we gave their music the oxygen of publicity, but at the same time we were making all the flippin' dough out of it.

Otis Reading – Sings Blue
If you wanna talk about soul music, I was a big Motown fan and I came a bit later to Otis Redding, but he just had that bit more edge. Obviously it wasn't rock, but he could do a Motown song, like 'My Girl', but with everything roughed-up. I remember reading that when they recorded it, he'd do three or four takes of each track, and they'd all be different, and you could have used any one of them. And you can hear that: it's like jazz, almost, these wild interpretations. He was in his prime, and that band was in its prime, Steve Cropper was really flying, and there's nothing much more to say about it, just an extremely powerful album.

The Clash – The Clash
I wasn't really a punk. I was about 16 when that album came out. But I was living above Maples, a carpet shop near Tottenham Court Road, and it was right by Capital Radio, and I remember suddenly these 14-foot letters appeared in spraypaint on Capital's windows, 'THE CLASH'! And there was a thing in Melody Maker, where I heard about this club called The Roxy at Covent Garden, so I went down there. Me and my friends already looked a bit skinhead-y, suedehead-y, and I had this mohair suit, but the connection was that the punks had straight trousers in this world of flares and Kevin Keegan hairdos. Nobody was wearing Vivienne Westwood clothing: there was a guy in a dinner jacket painted pink, and someone else in a boiler suit they'd made themselves, and it was really DIY. The tribalism between mods and skinheads and punks hadn't really started at that time, and it hadn't fractured into a million pieces yet. In 1977, if you had short hair, and you were prepared to have someone call you a fucking cunt in your ear for it, you were in. I saw a band called Eater at the Roxy, whose average age I later found out was 14. And I first heard The Clash's '1977' and 'White Riot' on record there. I felt like I was at the advent of something new. I liked punk, and I liked the attitude, but by 1978 we had our own thing going. But I always had a soft spot for The Clash, because they had the reggae thing, like us, and there was a bit of soul in their music, for want of a better word. Joe Strummer definitely had a bit of soul in his voice. Every fucking track on that album's brilliant, but my favourite's 'London's Burning'. And they were fucking brilliant live. And we [2 Tone bands] wouldn't have had anywhere to play if it wasn't for punk. You had pub rock informing punk, and punk informing us, and The Specials were a direct amalgam of punk and ska, and we realised that the faster we played, the more likely we could get the crowd jumping up and down, which was a legacy of punk. All these different movements, fracturing then coming back together. You'd need 60,000 sociologists to untangle those couple of years.

The Sensational Alex Harvey Band – Framed
This was the first band I ever saw. I went to see The Who at Charlton in 1974, when I was 12 or 13, and we bunked in, and supporting The Who was Alex Harvey. And, fuck me! He had this sort of fake brick wall, and he burst through and started singing 'Framed' and it was just a fucking revelation. It's funny because I've been looking at a bit of him on Youtube recently, interviews that he did, and what a fucking character. The bits of film that are left of him, there's a clip of him singing 'Framed' at some festival, and he pours a bottle of beer over his wild curly hair and turns it into a quiff with his hand. It was only when Jerry Leiber from Leiber & Stoller died recently that I realised they wrote that song. He shocked me, with the theatricality, the fearlessness, just doing what the fuck he wanted. They had this song called 'The Faith Healer', which I heard made Johnny Rotten want to be in a band. Just outrageous, but charming and intelligent too. And they did a version of the Jacques Brel song, 'Next', which was just fucking brilliant. He weren't around for very long, but I have a lifelong love of his work. Just that mixture of comedy and… terror. Perfect!

Amy Winehouse – Back To Black
For obvious reasons, since her passing, I've been playing it a bit, and it's a fucking great album. I think it was Tony Bennett who said she had the voice in which he could recognise the echoes of the truly great singers. Again, she had that spontaneity: she could do five different versions of the same song and they'd all be equally good. And that's the sign of a real soul singer. I did meet her a few times, I used to see her around Camden, and my daughters used to know her a bit, being Camden girls, and it was sad seeing her demise. She was this healthy, vibrant girl and bit by bit you saw that change. Really tragic, and especially when you hear how great that album was. It's funny, even in our heyday, people in Camden would leave us alone a bit. There wasn't that tabloid hunger in those days, and there wasn't a lot of music in the papers. Also, we weren't in the girly market. Girls didn't like Madness, so there was no point in writing about us! So we avoided all that. But now of course there's the internet, and all these fucking virals or whatever they are, and everyone's got a camera on their phone, and if Amy wanted to go and hang out at the pub, she just couldn't. And at the very end, all she wanted to do was come back to Camden. Hopefully in time people will remember her as a brilliant singer, and forget all the other nonsense.

Any Aretha Franklin album
Any of her albums, really. She earned that title 'Queen Of Soul' with things like 'Spanish Harlem', and 'I Never Loved A Man The Way That I Love You'. My favourite stuff is when she plays the piano and sings, and it's so powerful that the microphone is distorting. I read this thing about how the backing vocals on her records are really dry and up-front, and the reason for that was she had to stand at the back of the room, because otherwise the microphone would fucking blow up! So you've got the natural reverb on her voice, but the backing vocals are really close and dry. And it makes an amazing sound. But again, a really tortured soul who had the most amazing voice, which transcends ordinary craftsmanship and becomes magical.

Ian Dury And The Blockheads – New Boots And Panties
Unfortunately I never saw them, but Kilburn & The High Roads [Ian Dury's first band] used to play near where we were hanging around as kids. I was a couple of years younger than the rest of the band, who went to see them at the Tally-Ho. They were a huge phenomenon round our way. And they made a great album called Handsome, but a lot of the stuff Ian Dury was working towards on that album really came to fruition on New Boots And Panties. It was slightly infused by the whole punk thing, it had that wild energy, but it still had that vaudevillian faded grandeur of the music hall. Again, it's about comedy and terror: "arseholes, bastards, fucking cunts and pricks" is a pretty fun thing to hear when you're a teenager, coming out of the speakers! He was pretty acerbic in person. I remember I was with Clive Langer once, our producer, and he said "Ian, I love your work" and Ian said "So fucking what?" That was about the strength of it, with Ian. We got to know him better near the end. He played one of our Madstock gigs, and we recorded a track with him just before he died, called 'Drip-Fed Fred', which is rather good. I think he always saw us as slightly usurping him, which is kind of true. He could be very acidic. When he was working in our studio, I remember the police were called a couple of times. But an amazing artist and fantastic lyricist, and of course you listen to some of those songs now, 'Clever Trevor', 'Billericay Dickie', 'Plaistow Patricia' and all that, and they haven't dated at all.

Cockney Rebel – The Psychomodo
In my formative years, there was Roxy Music, David Bowie and Cockney Rebel. And I loved Roxy and Bowie, but Cockney Rebel had a big part in my heart, even though they didn't become as massive as the other two. Seeing Steve Harley in a bowler hat on Top Of The Pops doing 'Judy Teen' really sticks in my mind. There are loads of really great songs on that album, like 'Mr Soft', and I love the whole vibe of it. He's an underrated lyricist, like Bryan Ferry. This was one of those albums you'd walk around the playground with, under your arm, to show that you were a bit of a Jack The Lad. And he sang with this nasal whine, and I'm sure old Johnny Rotten borrowed a bit of that. And I'm sure there's a bit in one of the songs where he goes "DESTROY!", and I'm sure Johnny Rotten got a smidge of that. And he didn't hide his London accent either, which definitely resonated.

Beyonce – I Am Sasha Fierce
Haha, I was thinking, there are millions of bleedin' classic albums I could have chosen, but that album came out when I was on holiday with my kids, and I bought it because I'd seen her on The X Factor. She came on singing 'If I Was A Boy', and I thought, fucking hell man, if there was ever an example of what real talent is… you know what I mean? You've got some quite talented kids on that show, but then she comes on and it's like all the lights on the planet have been turned on. And I really loved that song, I don't know why, it just got me somehow: girls imagining what boys do, and so on. Unfortunately I didn't see her at Glastonbury 'cos I had to leave, but my kids stuck around and saw it, and I watched it on the telly, and I loved how she put a lot of effort in and embraced the whole thing. Somehow she doesn't seem as fake as a lot of those other pop-soul artists.

The Specials – The Specials
In 1979, they'd finished recording their album, and ironically we ended up going into the same studio, TW in Fulham, just after them. And Elvis Costello had produced their album, and he'd left behind a few bits of tapes, out-takes. And we were trying to get the machine to play these fucking ten-second little strips of tape! All you'd hear was a snare sound or a bit of guitar, but we were trying to check out their sound! John Bradbury [Specials drummer] used to get these amazing rimshot sounds, and I remember asking him how, and he said "It's the way I fucking play it, it wasn't the way it was fucking recorded!" So, of course we were checking each other out. We played together a couple of times at the Nashville and somewhere else, and we were obviously in competition, very friendly competition. It was truly thrilling and exciting to know there was another band doing what we were doing. When they came to play at the Hope & Anchor, the pub we used to hang out in, it blew our minds to see these people who looked a bit like us and sounded a bit like us. They went off like a packet of crackers. I remember Neville Staple was blowing holes in the ceiling with a starter pistol! Then they stormed into 'Gangsters'. I remember I wasn't sure whether to feel jealous or fucking vindicated, that we were onto something after all. But they'd gone that bit further. It was turbo-charged ska, and we were still doing a bit of R&B, but The Specials gave us this revelation that the uptempo stuff was really fucking exciting. But that's a great album, great songs, and the production is really clear. Not naïve, but not overly sophisticated.