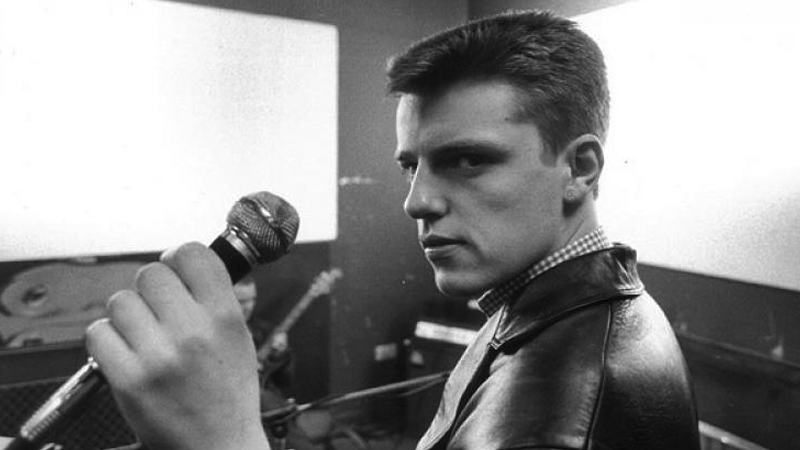 01 Feb

Suggs' Special Songs

Posted at 09:00h

in

Suggs

First record I can remember:
 Twist and Shout, by The Beatles
I remember being in primary school, and the playground was very much 
divided between The Rolling Stones and The Beatles.  I was on The 
Beatles side and I remember four of us standing on a school bench 
singing Twist and Shout pretending we were Beatles.  I think I was
 John, because I had one of those hats with the ear flaps and mitten s
with elastic, which I think is very John-esque.

Record that reminds me of school:
 Psychomodo, by Cockney Rebel
I really liked Cockney Rebel at the time that glam was going on. 
Most of it was kind of funny and stupid. I really liked that look 
they had, which was sort of A Clockwork Orange, with the bowler hats.
 And Steve Harley had a great sneer.  It really struck a chord with me
 as a young man,  I remember I started going around in a bowler hat. 
It was a funny time, because some people were into David Bowie, some
 were into Roxy Music, everyone had their own little tribe. It's not like that any more".

Record I fell in love to: 
Cry Me A River, by Julie London
I had just started going out with my girlfriend – the woman I
 married and whom I'm still with – and I bought a little house the 
first time I made any money. We hadn't moved in yet, but we used to
 go there quite a bit. Someone had given me a jukebox, and that was 
the only bit of furniture we had in the house – and there was only
 one record on it, which was Cry Me A River. I remember having a
 party and that record just played again and again, which made
 people a bit fed up.  There was a bathroom, which you could lock,
 and we had all the booze in there, but my mate who was the barman
 had too much to drink and went home early, taking the key with him.
 So consequently I just had this jukebox and a bathroom full of
 Liebfraumilch for about the first two months of our relationship.



Record that evokes the greatest summer of my life: All Together Now, by The Farm
I had been out of a band for a while, and wasn't sure what I wanted
 to do, and then I met The Farm, who I was familiar with because they 
had been around for quite a while. And they asked me to help produce 
their records, so I did.  Nobody really thought they'd do much, but
 then suddenly it all went mad.  And that was the summer of those funny 
little tablets, which I wouldn't recommend to anybody, because I
 nearly lost my marbles completely.

Heartbreak song:
 Mother, by John Lennon
Because I didn't have much of a family when I was young, and the
 song is all about 'Father I needed you / but did you need me?'  it's
 a very, very sad song and it always really gets to me when I hear it
.

Record for a night on the tiles:
 Loose Fit, by Happy Mondays

I always liked them because they had a slightly groovier element
 than most other indie bands of the time.  Every time I put it on I
 still get the feeling of that time. It's got that groovy fat beat and a bass line that really gets you going.

Record that inspired me to form a band:
 Handsome, by Kilburn and the High Roads
That was Ian Dury's band before he formed the Blockheads.  It was
 just sort of before punk and during early punk that I was listening 
to it, and it was something that was completely different from
 everything else. Seven-piece band, piano, saxophone, and these songs
 which were vignettes of ordinary life, which was ultimately what
 Madness were to become known for.  It really affected me at that time.

Record guaranteed to clear the tourbus:
 Dumb Waiters, by Psychedelic Furs
It was a long time ago now, but there was something about the
 Psychedelic Furs that I liked and no-one else did.  I guess they were
 just a bit too rock for everyone else's taste.  If it doesn't groove,
 nobody likes it.  But I thought they were great at the time.

New Year's Eve 1999, what's on the hi-fi?:
 Underneath the Arches, by Flanagan and Allen
It's just an old musical song, and it's just because it's completely 
stupid.  It would be a nice song to play while everybody else is
 playing Prince.  I imagine there's going to be a lot of rock going
 on, and big strings, and ELO, and fireworks – so I think it would be
great to play an old scratchy 78 through megaphones, personally.

Song to be played at my funeral:
 Anything
Really, I'd like any record that the people who are there want to
 hear because I don't feel like any one record is synonymous with my 
life.  So it's just who ever gets to the record player first. 
Anyway, you know how you can be buried in a cardboard box, and then
 they plant a tree on the top of you? That's what I want.  So I suppose
 you could play 'I Want To Be A Tree', but I really don't want
 anything played at my funeral.